When the weather's nice, there's only one place you'll find Gilbert van Ryckevorsel: Skulking along the bottom of a river, documenting what he finds. The diver/photographer has been exploring down there for nearly 50 years, and snapping pictures of it for almost as long. "It gives us a unique view of the underwater world, because we see a lot about the ocean on TV but we don't see the freshwater environment very often," says William Weedmark, van Ryckevorsel's longtime friend and owner/curator of gallery@theLinc, a photography gallery in Lunenburg, where the latest show is a van Ryckevorsel almost-retrospective. "I used to walk by a river and wouldn't think much about the environment in it," says Weedmark. "Now I can't walk by a river and not think 'Wow, geeze, there's turtles in there, there's salmon,' just all the things you see in his images."
1. Highlighting environmental concerns is a key part of van Ryckevorsel's work, as this image the Shubenacadie River shows. "He was up there and some guy came up with a truck and dumped stuff in the river, and he photographed some of it," says Weedmark. "That's a disrespect that some people have for the environment."
2. Although underwater photography is usually associated with greater depths than freshwater bodies can allow, van Ryckevorsel's muses are lakes and rivers around Nova Scotia and Gaspé, Quebec. He's got this rich subject matter practically all to himself.
3. van Ryckevorsel's artistic addiction to river bottoms doesn't end with photos. He also collects riverbed stones, which he douses in beeswax and bakes them. He then etches the beeswax, creating small tableaus of the river from the river.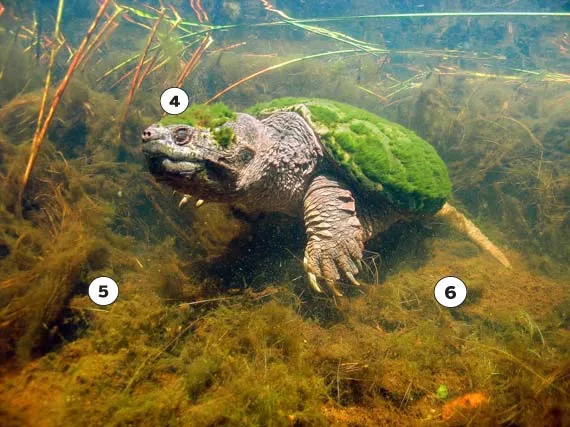 4. One of Weedmark's favourite images: "The water levels are too low because of logging upstream or global warming or whatever. But, the water levels go down and then pools form and become full of algae, which grows on the turtle. And so you look at this really cool picture with the turtle with green hair, but it's really saying that the river is sick."
5. The shallow depths van Ryckevorsel works within mean his images are often up-close, horizontal pieces—it's the most consistent way to capture the feel of a riverbed without breaking the water's surface.
6. Rivers and lakes can look the same from the water's surface, but the varied plants and mosses on their bottoms allow van Ryckevorsel's photos to play with texture and colour. Weedmark hopes the show's perspective raises awareness. "Not only do we want to show the images because they're stunning, but because they talk about an environment that's threatened."