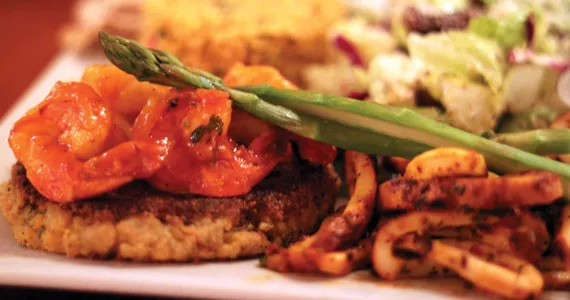 Acadian cuisine meets the Middle East at 308 South, resulting in a homey menu with gargantuan portions. by Melissa Buote
Acadian heritage is as embedded in the Southwest shore as the rock that runs the coastline. Roads run through the area like a bloodline to the beating heart of history: Belleville, Tusket, Sluice Point---all the towns and villages settled by our French ancestors. The 308 South is one of those roads.
With their restaurant, 308 South, Corey Clamp and Josette Bourque have brought a bit of that heritage to another road: Quinpool. Partnered with Clamp's father, Tarek Kostek of Tarek's Cafe, they are melding Acadian with Middle Eastern, opening up their idea of home to Haligonians.
The restaurant is homey. Orange walls give off a glow, copper pots and ladles add warm depth. Comfortable banquet seating and chairs line the narrow restaurant.
Our friendly server brings water and a za'atar dip to start our meal. We smudge some pita with the earthy dip. It's refreshing with shredded cucumber and a puddle of golden olive oil. We share a half-litre of Ksara Blanc de L'Observatoire ($20), a mild, dry wine that plays well off the nuttiness.
Before we finish our za'atar, a quartet of dips ($8.95) we order as an appetizer arrives. There are small dollops of hummus, tzatziki, olive tapanade, baba ghanoush and a roasted red pepper dip---no more than a tablespoon or two of each---prettily presented along with sliced tomato, cucumber and pickled turnip and a half-dozen pita wedges. The dips are lovely, gone too fast.
Our entrees are rappie pie ($12.95) with a red cabbage salad on the side, and the 308 Special ($16.95), a puzzle made up with pieces from across the menu: calamari, tomato-garlic shrimp, a fishcake, curry spinach rice and a Caesar salad.
Rapure is a gluey dish by nature, based on the pulpy starch of grated potatoes, mixed with chicken and broth and given a distinctly Acadian flavour by a hint of aromatic, slightly peppery summer savory. The grated potatoes that top this puffy, burnished rappie pie glisten in the dim light. A few shards of toasted bread are shoved into the side of the casserole. This version of the dish seems to eschew pretty much anything other than potato and chicken. It's warm and comforting. And, yes, it's gluey. The cabbage salad is crisp and slightly acidic.
The 308 Special is all over the map.
The calamari is flat-out awful. Chewy and dry, they are a nightmare of elastic bands. The sauce is so patchy and the temperature so inconsistent---hot in one place and chilly in another---that I fear they have been reheated in a microwave before serving. The only thing that keeps me from flagging down a server is the amount of food I have in front of me; my plate is basically a buffet.
The shrimp is also overcooked. The fishcake, however, makes up for the other seafood failures---it's wonderful. Soft and sweet, with the mild saltiness of the cod bringing a nice balance to it, it's heavenly with tartly sweet tomato chow.
The Caesar is also fantastic. Fresh romaine, peppery radicchio, big, crisp croutons and parmesan are but a canvas for a deliciously creamy, garlicky housemade dressing. The rice feels a bit unnecessary, overshadowed by the salad. It's good, but it's also a bit of a throwaway.
Our server, who has kept our glasses full all evening, accepts our surrender with our plates half-full. While the dessert menu--- a small list from the Seaport Market's Little Red Kitsch'n---is delightful, we are sadly too full to explore it.
That's too bad, since exploring this menu has been fun. There are some definite bumps in the road, but nothing that would make me take a detour in the future.