Proper drink ingredients
Limes, bitters, homemade maraschino cherries, herbs, you get it---there's a fine line between drinking a cocktail and drinking some alcohol in a cup (in this case, a coupe).
Bone marrow
You know what tastes good with bone marrow on it? EVERYTHING. You can roast a hunk or two in a pan on the fire and smear that stuff straight on a burger bun. Throw some wet rosemary on the embers and tell ketchup to eat a fat one.
Homemade bug spray
Avoid unsightly red welts by filling a 32-ounce bottle with apple cider vinegar, dried rosemary, sage, lavender and mint. Let this steep for two weeks, strain, rebottle in a spray bottle with one part water, one part mixture.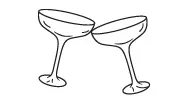 Champagne coupe
It's light, you can fit a boob in it for laughs, like everything on this page, you will feel fancier having brought it. I am not judging you though, once while I was camping I drank soy milk out of a hollowed-out papaya for lack of vessels. Wish I had a coupe, man.
Micellar water
My four-step nightly routine goes out the window at the drop of a hat---being in the woods is a for sure dealbreaker. Micellar waters don't need to be rinsed off; they clean, hydrate and take off even the most stubborn makeup. Which I'm sure you had on in the first place, because that's what sets us apart from the animals.
An eye mask
Unless your tent is completely black and opaque, you will be woken up by the 5am sun. Go for terrycloth, cotton or silk. Any synthetics and you'll be sweating from the eyelids (weirdo).
Cribbage board
The outside is kind of boring and a cribbage board really helps carry that whole "pegs" theme that camping already has going for it.