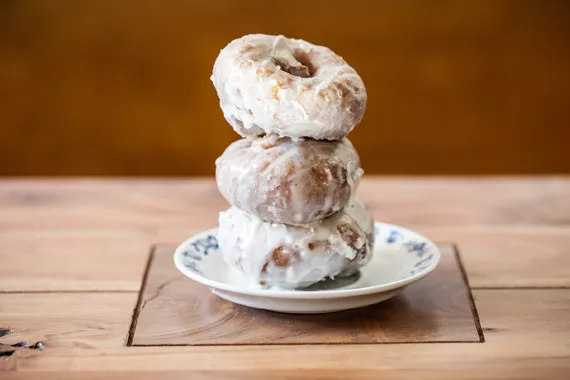 Ingredients
10 cups all-purpose flour
2 cups white sugar
4 tbsp ground cinnamon
2 tbsp ground nutmeg
4 tbsp ground ginger
1 tsp ground cloves
4 tbsp baking powder
4 eggs
4 cups whole milk
1 tbsp vanilla
vegetable oil (or your choice) to fill deep-fryer
1 lb doughnut fondant (can be purchased from specialty food shop)
egg nog (whole fat), enough to reach consistency
Equipment
Deep-fryer, standup mixer, mixing bowl, spoon.
---
Method
Heat deep fryer oil to 370°F. Mix dry ingredients using a standup mixer until combined. Add wet ingredients, mix on medium speed until combined. Consistency of the dough should be smooth, with no lumps. Do not overmix. Let sit for 5 minutes. Drop dough by the spoonful (about soup spoon size), gently into deep fryer. Done when dough looks golden-brown and crispy on the outside. Add optional glaze when completely cool. Makes approximately 20 doughnuts.
For egg nog glaze: In a medium-sized mixing bowl, slowly incorporate egg nog in with doughnut fondant until consistency of a thick glaze is reached.