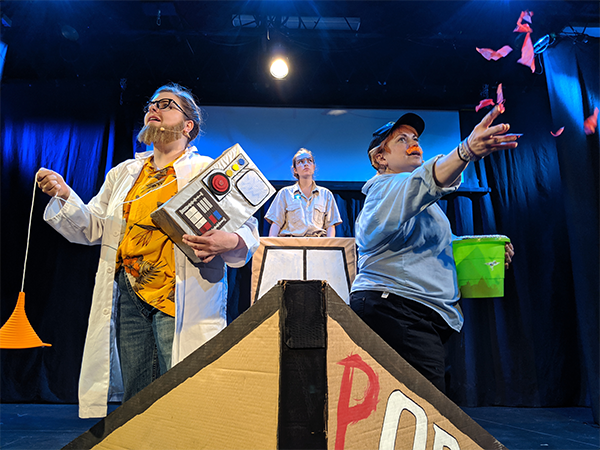 Giant Killer Shark: the Musical
Sat Sep 7, 11am & 8:45pm; Sun Set 8, 2:55pm & 10pm
The Bus Stop Theatre, 2203 Gottingen Street
$13/$10
---
Amanda Mullally has always had a flair for the dramatic. The co-star of Giant Killer Shark: The Musical, a comedic reworking of Jaws, recalls a PEI childhood heavy with dramaturgy: "when I was a nine-year-old kid I was in our basement singing Phantom of the Opera and doing one-woman-shows multiple times a day," she recalls, laughing as her arms splay across the cafe table. It's the first time Andrew Chandler, the show's director, has heard the story and his eyes glint at the hilarity: "I'm gonna have to see this show, it might be my new favourite."
Though the two only met recently, through auditions for their Fringe musical, a seasoned friendship dynamic feels palpable: Poking fun at each other, building on one another's enthusiasm for Fringe, explaining how their all-women-cast take on Jaws will be the most hilarious, creative and impactful piece of theatre featuring a cardboard shark you'll ever see. "The show was at Toronto Fringe like 12 years ago and I loved it at the time...and like every two years I come back to it, sort of like 'oh yeah, this show'," Chandler says. "I thought having three women play all the men in Jaws would be amazing and they're so funny and the songs sound so good and it really works in this lovely contemporary 'we're gonna make fun of this manly man going to hunt the shark show'." Mullally, who plays the Hippie Scientist, nods along.
Both diehard Fringe attendees and participants, Mullally and Chandler talk about their love of theatre when asked to talk about themselves. As Mullally puts it: "You get to call a cardboard piece of prop a shark or something like that. You get to say 'Yes, we are on a boat right now,' and you get to have fun and be wild and crazy and push your boundaries—and there's nothing else that makes me feel this way. It's magic."