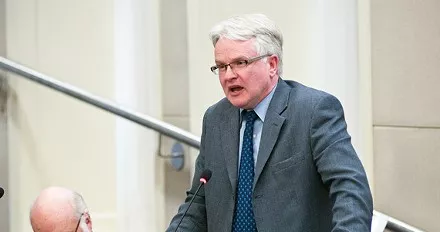 The race for re-election this year for four Halifax council members turned out to be a non-starter.
Councillors Lorelei Nicoll (Cole Harbour-Westphal), Tim Outhit (Bedford-Wentworth), Bill Karsten (Dartmouth South-Eastern Passage) and Steve Craig (Lower Sackville) all won their seats by acclamation.
In the 2012 municipal election, Nicoll defeated two challengers and Outhit bested one opponent. Karsten beat two contenders the last time around, while Craig won his first term on council against four opponents. 
Outhit says he's surprised to not be challenged this time. It's his preference to debate issues and ideas with other candidates.
"It's kind of a strange position for me," he says. "I really believe in democracy and elections, yet of course I'm honoured and flattered to be acclaimed."
Incumbents who win by acclamation might be buoyed by the fact no one came forward to face off against them. They perhaps feel an uncontested victory is a testament to their record in office. But not all politicians like to win unopposed. A small-town mayor in Saskatchewan, in 2009, said she wanted challengers, even if that meant she'd lose the election that year. Anne Weisgerber said voters don't get to participate in a campaign and discuss local issues if the candidate is simply crowned ruler of the constituency.
"When there's no election," she told CBC News seven years ago, "there is no involvement. People don't get involved."
A Dalhousie University political scientist echoes some of Weisgerber's views on politicians getting a free ride.
"Competition is fundamental to a healthy democracy," associate professor Kristin
Good tells The Coast. "It encourages debate, responsiveness to voters' concerns and accountability."
Good says the name recognition that incumbents enjoy "gives them an enormous advantage over other candidates, regardless of their record, which could lead potential candidates to believe that their effort to run would be futile."
Karsten says the difference between the last civic election in the Halifax region, and this one, should be recognized.
Prior to the 2012 vote, "the number of districts changed from 23 to 16, and as a result boundaries changed," he says. "We found ourselves...with six districts where incumbents were running against each other. That alone would diminish the odds greatly for councillors being acclaimed."
All of which can impact voter turnout. Four years ago, no successful candidates arrived at city hall without facing competitors. The overall turnout in the Halifax region then was just under 37 percent.
The last city council race was a by-election in January, in which Tony Mancini won a four-candidate sprint for the Harbourview-Burnside-Dartmouth East seat. It produced another pathetic turnout: About 17 percent of eligible voters cast ballots.
Asked about voter turnout, Good acknowledges "the level of competition of both the mayoral and district levels could be factors" in the number of electors who decide to vote.
Not only does a competitive civic election enable candidates to listen to voters and offer their opinions on issues of concern, it can spawn mutual respect. For instance, on Labour Day, declared candidates in Halifax's Peninsula North district met at a local coffee shop to sign one another's nomination forms. Going it alone might mean an unopposed candidate operates in uninspired isolation after his or her official nomination papers are filed.
Also, the acclamation matter begs the question: If you serve in public office by "winning" a seat in government, following a "campaign" in which you ran uncontested, were you actually elected?