Hello, readers. Here's a chance for you to have a Coast staffer or intern work as your personal reporter.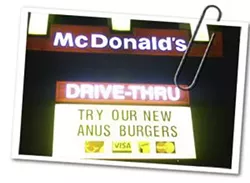 Every week, we have a small feature in the news section called "Municipal Malfunction." To be honest, we don't think we've achieved everything that's possible with this feature, and we think, with a little help from you, and a little work on our part, the Municipal Malfunction could be an exciting interactive element for readers.
Basically, we want you to identify Municipal Malfunctions for us, and we'll use our reporting skills to find out why the problem exists, and who's going to fix it.
What's a Municipal Malfunction?
Simply put: something physical in the city that's broken. A broken sidewalk, the Common fountain not working, a pile of garbage left in the park, like that. Here are some examples we've put in the paper before:
Lights left on all day at Government House
Peeling community signs
Dangerous stairs
Environmentally unfriendly signs promoting environmentally friendly lights
Missing Life-Saving equipment
Common Tennis Courts are falling apart
And, our favourite:
An overly descriptive sign at the Clayton Park McDonald's
You get the point.
What isn't a municipal malfunction?
If you can't take a picture of it, we're not interested. We want infrastructure failures—broken things, not "my councillor sucks" or "taxes are too high." Also, you may have noticed we don't usually deal with potholes and other car-related issues. If it's especially bad, we'll consider it, but generally we like to encourage people to take transit or ride a bike or walk, so we're not big on covering car-related infrastructure problems.
How to contribute.
Just take a picture of your favourite Municipal Malfunction, and send it to timb@thecoast.ca, along with the location of the problem. We'll do our best to get someone on it.