While Genevieve Gruenke has only had her biz Rerocc Halifax open for a few months, she's really been working as a tailor since the age of nine. "My dad always wore Levi's jeans. I loved to sew from a very young age and my dad saw that, so he started saying 'Hey, if you repair my jeans and my clothing, then I'll pay you for it.' So I would patch his jeans when I was younger and they would look so like shit, but he would proudly wear them," she says. "I did that all through high school."
Gruenke's come a long way since then, studying sustainable fashion, launching a successful line of belts and scarves in Toronto, and then, last summer, relocating to Halifax to start a new sort of tailoring shop. "If you think about tailoring, you think of an older lady or older man that's been doing it for years, sitting behind a machine, and usually that's what it is," she says. "So, I just wanted to be able to start something that would be more fashion-forward and that would encourage people to buy stuff second-hand and thrifted instead of buying new, and then come get it altered with me."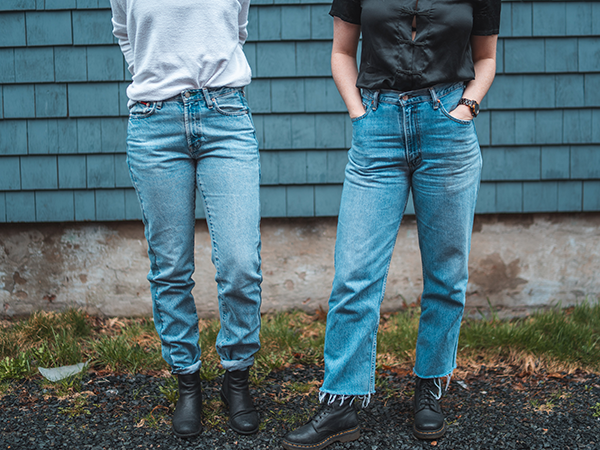 Her West Street studio, located in the same building as East Coast Kicks and Classic Soles, sees her reworking vintage pieces to suit modern tastes (like the '80s Givenchy cocktail dress she refitted for a client), repurposing discarded fabrics into something new (like the denim jacket she added strips of Louis Vuitton monogram to so a client could copy Lil Pump) and, most of all, helping people find their dream denim. "If you're getting a pair of denim, and denim is something you're going to wear every day and it's something you're going to pay more for, once you have that perfect fit you wanna live in those jeans forever," Gruenke offers. "So, to be able to repair them when they wear out, you can get them fixed over and over again. You should be able to have denim for like, 20 years. That's not what's happening because we're buying jeans and the quality is really shitty."
Like a piece of Nicorette to your fast-fashion habit, Gruenke lays out the custom-made path to perfect style. "You can go through your closet and get everything tailored and fixed," she says, "and give the rest to a thrift store and then you have a closet that's only full of clothes you wear."