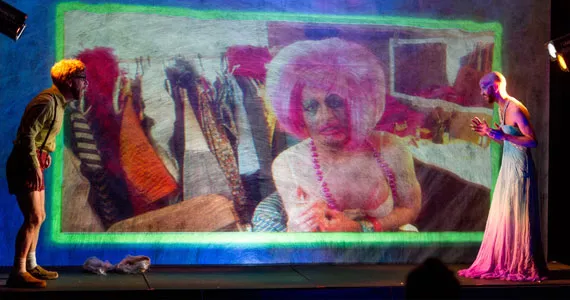 The Princess Show Thursday, September 8, 8:30pm Saturday, September 10, 1:30pm Sunday, September 11, 4:10pm The Bus Stop Theatre, 2203 Gottingen Street $11
Princess Edward has learned some truths about the world, and she's here to share her wisdom. In an epic journey of drag, music, anime, lip-synching, claymation and more, Princess courageously confronts apocalyptic storms.
The Princess Show tells the story of Princess Edward, a bearded dress-wearing beauty who, while navigating a planet in flux and devastation, puts it all on the line to save her beloved, Abel K. Suckizone. It's a multimedia musical filled with hilariously animated and sparkle-coated metaphors for fighting one's inner demons, and the power of community.
Though Princess drops a lot of F bombs, this show's message is for all ages. And, complete with a belting of Pat Benatar's "We Belong," it's also a ton of fun.
"A friend described it as a Nintendo game dance party," says co-creator Richie Wilcox, who struggles to define the tale. That's no surprise, since this chronicle incorporates a mash-up of...well, everything.
The performance art piece is the brainchild of Wilcox, who directed and performs in the play, and his partner Aaron Collier, who is the writer, producer and star of the show. The two have combined their professions, Wilcox in theatre and Collier in electronic music, to create this futuristic wonder world of genderfuck and creativity. Collier plays Princess, and Wilcox acts as Abel, the damsel in distress. The rest of the show's characters are projected on a screen—including a claymation beast made on an iPhone app by the show's third creator and costume designer, Deonie Hudson. The choreography for the performance was created by Jay Whitehead. Choreographing was a huge job for this production—steps have to be timed with the show's 60-minute movie projection. Once play is pressed, the show must go on.
The production's dialogue and musical numbers are entirely lip-synced. Wilcox likens this effect to the experience of watching over-dubbed anime: A bizarre feeling that can make you creep to the edge of your seat. Lip-synching to music is something you'd expect at any drag show, but the dialogue adds an unusual element. And the show's creators like it that way.
The Princess Show's debut at the Atlantic Fringe Festival marks a homecoming for Wilcox and Collier. After almost a decade of living in Halifax (and then some time in Toronto), the duo spent the past four years working in queer performance in Lethbridge, Alberta. It's a surprising hub for this kind of theatre, says Wilcox, dubbing it "the queer capital of the west." In Lethbridge, the two were artistic associates at Theatre Outré, where they produced, directed and preformed in many aesthetically adventurous shows, hosted themed dance parties, started theatre festivals and developed alter (drag) egos.
The city acted as a creative incubator for them—it is a place lacking in theatre reviewers, yet always had a relentlessly supportive audience, making it "very safe...and free," says Wilcox. The two are originally from the east coast (Wilcox from Cape Breton and Collier from PEI), and would visit Halifax over the summers for performances here and there. "Coming back feels like coming home to a lover who you've been seeing on the side," says Collier, laughing. The couple's experiences in Lethbridge changed them a little, says Collier, and the two are feeling more comfortable than ever in their own skins.
It's been a journey, artistically and personally, to get to this point. Before dabbling in theatrical performance, Collier spent about 12 years as an electronic musician and keyboardist in The Jimmy Swift Band and Scientists of Sound, investing all of his time in "figuring out how to make computers into live instruments." Wilcox, who is professionally trained in theatre, is also a singer, and was in the top 11 of the first round of Canadian Idol in 2003. He has been performing in and directing plays for most of his life, and started the Halifax theatre company Angels and Heroes, which celebrated its 10th anniversary this year. These skill sets were a recipe for collaboration. "More and more, working on theatre productions with Richie, I just started to bring the two worlds together," says Collier. "Aaron is fantastic at learning new toys and utilizing them," Wilcox adds, referring to his partner's interest in technology.
The creative process for The Princess Show was collaged—beginning with the storyline, then with the music, and from there came the pizzazz. Inspiration took many forms: late nights spent on the couch watching anime series coloured the fantastical nature of the show—as did their love for Nintendo. "I'm very excited for what's happening with it, because those worlds are very fantastical and theatrical," says Wilcox.
Drag is another enormous influence on the musical, centring the show's backbone around queer themes. Gender norms are messed with beautifully, combining ballgowns with chest hair.
Like many drag performances, the nature of The Princess Show is lighthearted, fun and exaggerated. But underneath all of the glitter lies some seriousness.
Take Collier's favourite scene: A plot point where Princess goes off on her own to explore in the mountains, after she and Abel have a disagreement. She finds some dark caves, and despite their eeriness, she musters the courage to venture inside of them. Eventually, Princess encounters the show's antagonist—an evil monster, which she must confront. Her journey into the unknown leads to eventual triumph.
Collier likens this experience to his own life; he says the past year for him has been one of personal growth.
"While it's fantastical and surreal, it's still coming from our lives. There's definitely a large portion of autobiography in it," says Collier. "At its core, it's actually a journey about self love." He pauses. "And most importantly, self acceptance."