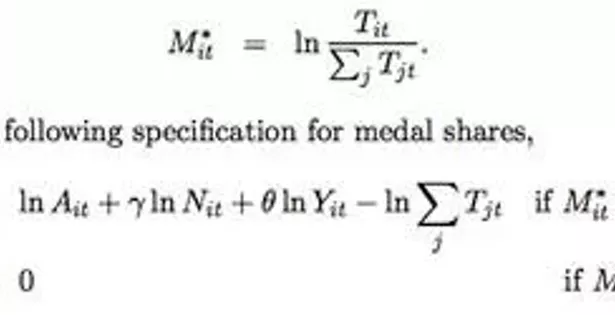 Just to go back to Neal's post about Guyana and Canada. There's been some thinking about this in the last couple years.
Researchers Andrew Bernard and Meghan Busse managed to predict the total number of medals that Australia would win the 2000 Sydney Olympics to within one medal based on a comlicated mix of economics, culture and population.
They started out by asking if population was the main indicator of Olympic success, which it is not. For instance - according to the UN's Population Information Network (POPIN), Tonga was the overall big winner at the 1996 Olympics. This was based on evaluating medal wins by population per million (Tonga, with one medal and a population of 106,000, had a rate of 9.4 medals per million (mpm); the United States with a population of 265 million and 101 medals, earned a medal rating of 0.4 mpm. They came in 40th overall).
Anyway, Bernard and Busse decided to examine the economic resources of the nation. After considering population, per capita income, GDP, national characteristics and so on, they determined that total GDP (Gross Domestic Product) is "the best predictor of national Olympic performance."
The Wall Street Journal also examines this, giving predictions by Dr Daniel Johnson (not the singer, the statistics professor). Johnson also figures in climate and political structure of the country. Johnson says, China is "expected to take home 89 total medals and a whopping 44 golds."
Interesting fact : home countries typically win 1.8% more medals than other nations. Unless the year is 1976 and you are Canadian.