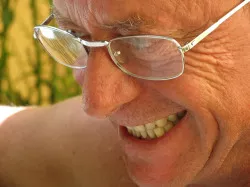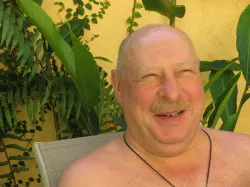 Norval Collins has a condo in Alajuela. He and Mike Sangster are here. The Condominiums Mana have an electric gate by the road and 24 hour security (as many places do) in the form of Eduardo and David, who have brown para-military uniforms, aviator sunglasses, guns and beltsfull of bullets. They spend their time mostly just outside the gate, in a little hut with tinted windows so I cannot see them inside; I give a little salute anyway, when I go in or out.
Gates
Every home and most businesses have electric gates. Razor wire is everywhere. In the city houses are right at the sidewalk, with the entire front fenced. People park their cars inside the fence, often on a tiny patch of tile, almost as part of the outdoor living room which most houses have, even if it is a very modest closet sized place with one chair and a potted plant. The more affluent folks have big outdoor lounge spaces, with sets of furniture—couches, side tables, etc. Inside the gates often there is a dog.

Dogs
I am really enjoying the dogs in Costa Rica. There are exceptions, but the average dog here is mid-sized, thin but not skinny, a tired hot dog who demonstrates the mañana attitude: he would get up and bark, but it's just too hot to be bothered.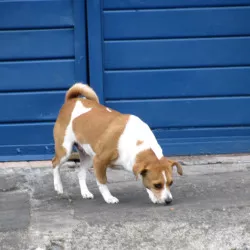 Mostly the dogs here are mutts; only in the village of Coronado, a relatively well-to-do place, did I see more chi chi, poo-poo, diddle-doodle dogs who possibly have French names. In a resort area like Manuel Antonio, which is on the Pacific and hot, hot hot, down in the village you see the same three dogs all day, everyday, as they make their rounds: sitting quietly by a restaurant table, looking up at diners, and finally wandering on.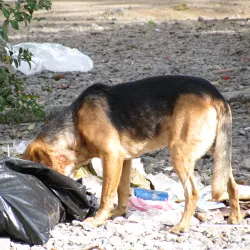 I have seen only a few dogs I feel very sorry for. I was waiting with Norval to get the bus back from Ojo de Agua, and a tired old mid-sized beige dog was wandering around by a restaurant, pausing to stare up at diners and moving on. She obviously had pups somewhere, and her ribs showed above her distended nipples. I felt especially sorry because I had a chicken-filled pastry in my bag, and finally, just as the bus came, I made my own redemption, rushed over and gave it to her.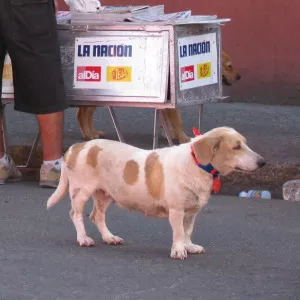 Ojo de Agua
Ojo is the municipal pool complex just outside of Alajuela. They are several pools, all fed by a gushing spring. It is mostly working class folks who go there to escape the heat and splash around.