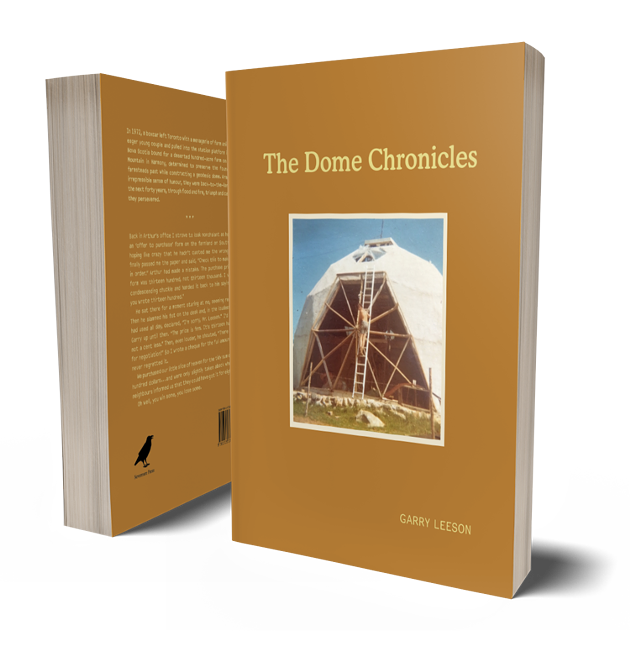 The Dome Chronicles
 (Nevermore Press, $24.95)

Halifax Signing
Coles Scotia Square
Thu Jan 9
noon-2pm
"It wouldn't be fair to say that everything that happens around here is funny, but anything that wasn't, I'd shy away from," explains Garry Leeson. "This is meant to be a humorous book." 

The Dome Chronicles
is Leeson's first published book. It's a collection of true stories about getting back to the land in Nova Scotia in the 1970s and 1980s. It's about community, subsistence farming and how Leeson came to build a geodesic dome with his wife Andrea on a hundred-acre farm in the Annapolis Valley. 

"When we bought the land and looked around we had all acres of good tall timber and stuff—we could have built a log cabin," says Leeson. "But actually I broached the subject, but Andrea said, 'No, you got me here on the pretext that we're going to have a geodesic dome, and we're going to have one.'" 

"Big, big mistake," says Andrea with a laugh. "Big mistake."
"Hell hath no fury like a woman deprived of a geodesic dome," adds Leeson with a chuckle. 

So they built a geodesic dome. And then they built a log barn. And they raised cows, goats, horses, chickens and ducks. And they raised four kids. And somehow, through it all, they managed to retain their sense of humour. 

"It was such a hard life for so many people," says Andrea. "The only way that you could look at it was from the bright side."