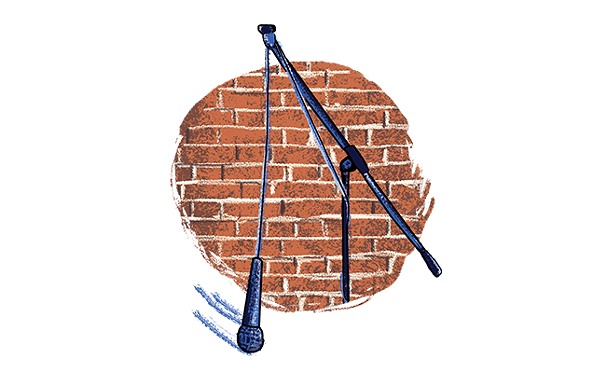 "They're words, goddamn it."
Andrew Vaughan speaks into the microphone before his audience at The Company House on April 11. His routine is part of the weekly Laugh House event: Experienced comedians and newbies alike take the stage in 10-minute segments to work the crowd.
Ahead of each event, a live taping of a podcast takes place at the same location, featuring some of the performing comedians. A recent episode caught the attention of community members who found the jokes harmful, with some calling them—and the comedians behind them—transphobic. There's also been a call for a Company House boycott.
"Words are just fucking words. That's all they are. You don't need to be offended by them," says Vaughan. "If you are, you obviously have your parents pay your rent, that's for sure."
Someone at one of the tables up front claps enthusiastically.
For Ky Greyson, though, they're not "just" words.
"Even saying 'It's just jokes,' shows that you don't think your words have any meaning or consequence—which I think is a very childish and naive way of looking at things."
Greyson says he first found out about the podcast from a friend. The friend, a non-binary trans person, told Greyson they'd been "outed" on the show.
During two episodes, a non-binary person was mentioned. The area where they live and Their place of employment was identified.*
"Now I have to edit this fucking thing. Thank you," one person says at another point* on the recording. The response?
"No, we don't. We don't have to edit shit."
Beyond that, Greyson and other folks are taking issue with multiple things said in the podcast. For instance, when the topic of concerts is brought up, comedian Manolis Zontanos says: "These dudes, all of a sudden they like, they decide to be a girl. And then I don't know if—they'll turn into a girl but—I don't know, some of them get their dicks cut off and some don't, right?" "I don't care that they're becoming women," but where do they get the money for this expensive operation?
Vaughan declined to be interviewed about the situation, providing a Patrice O'Neal clip to articulate his feelings. Frank Russo, Laugh House's host, also didn't want to be interviewed—pointing instead to the statement on the Laugh House Facebook page.
"There have been serious accusations of transphobia, advocating violence, and targeting non-binary persons, to which we refute [sic]," it reads in part. "Let it be clear that at NO POINT DO WE ADVOCATE OR INCITE VIOLENCE, SEGREGATION, OR OPPRESSION OF ANY GROUPS. The context of our discussion was not in any way voicing negative attitudes towards any one individual's sexual orientation or gender identity."
Dozens of comments popped up on the post, most of which have now been deleted.
"They clearly do understand that words have consequences as they have barred and banned people from their Facebook page for calling them sexists, bigots and transphobes," says Greyson. "They are being clearly very offended by being called offensive."
Greyson, among others, contacted The Company House's Facebook page about the podcast. "They said they had alerted the comics to this happening and they wanted us to sit down and chat with them," says Greyson. "Our response was, of course: We're not really interested in sitting down with the people who are saying these awful, gross things about trans people and their genitals. There's not really a halfway point for that."
While the person who corresponded with Greyson said The Company House hadn't monitored the content of the stand-up shows and had "failed" in creating a welcoming, respectful space, there appeared to be no further action.
"The comedians did perform [on April 11], which is the last word I'd heard from The Company House after, you know, bringing up these issues."
As of Wednesday morning, The Company House hasn't made a public statement and the owners did not respond to interview requests.
Although Vaughan wouldn't do an interview, he incorporated the controversy in his bit last week, a show he was aware The Coast would be attending.
"I was told that I'm transphobic and I should be sued in court for hate crimes. I would love to see that court case. Fucking love to see that court case," he tells the audience. He goes on to say pages upon pages of his YouPorn search history could prove them wrong.
"People like to tear you apart. Like, they find things—they don't understand jokes."
*Changes were made April 21. The podcast is hard to follow at points, making it easy to confuse the people or characters being discussed. Laugh House's Frank Russo clarified post-publication that the neighbourhood identified in the podcast was not the non-binary person's. (Back to story.)