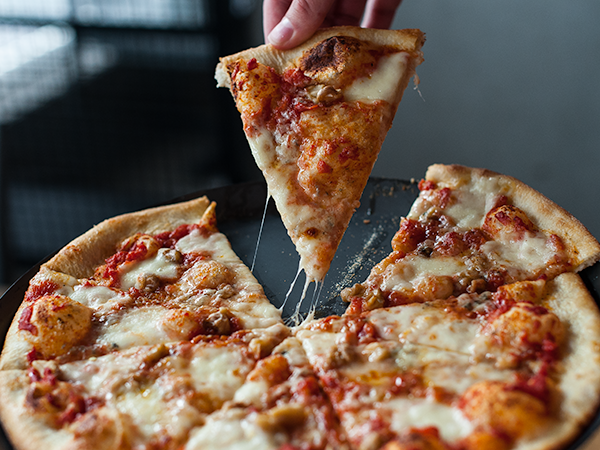 Childhood friends
Moe Alhaj
and
Paul Jebailey
had home on their minds when they dreamt up
G-Street Pizza
. The pair, who grew up in Dartmouth and have spent most of their adult lives living away—Jebailey on the west coast until recently; Alhaj lives in Dubai—and wanted to make a mark on their community, together. And pizza was the answer.
"We wanted to bring different ingredients and put a little more thought into the process of it all," says Alhaj of the concept. The restaurant's design came courtesy of Attica Furnishings. "We wanted to put effort into the design, decor and atmosphere. You're leaving home and not eating lunch or dinner at home for a reason. We want to give that full experience to people."
G-Street Pizza, which will make its debut at 2302 Gottingen Street (in the Velo building) next week, brings a tight menu of pizzas, burgers, salads, apps—and donairs, obviously— to the table, zeroing in on consistency. Alhaj and Jebailey brought over chefs from Italy to help create and test the perfect dough, sauce and pizzas of their dreams. "We got it down to a science. We had about two-and-a-half months of practice—cooking food, testing food, inviting family and friends to try it," says Alhaj. A little menu of beer, cider and wine will complement the quarterly-changing food lineup, which will include halal, gluten-friendly and vegan options.
"It's simple and creative, that way we can perfect everything we have on our menu," says Alhaj. "Everything is the way it should be, and the way we would want to eat it."
G-Street Pizza opens Wednesday, July 24.