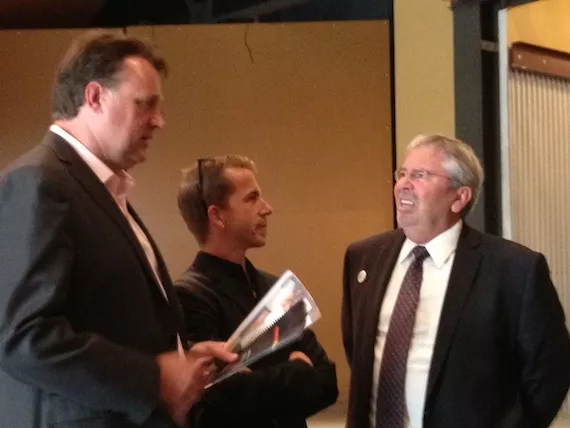 Thursday evening, Fusion, the networking group for 20-40 years olds, started off the serious stretch of the mayoral campaign with the first of a series of forums.
Fusion approached the event in its typically earnest fashion, with the conceit that they were interviewing the candidates for the job. They asked each into the room separately, and "interviewed" each man with the same basic set of questions: Why are you running? What's your experience? What's your vision/goals? Can you tell us a story where your talents came in handy? Like that.
I was hoping for some oddball, throw-'em-for-a-loop questions like "What is the air-speed velocity of an unladen swallow?" or "How would you get an elephant into a refrigerator?" but the Fusion folks kept it on the straight and narrow.
Fusion planned the event some weeks ago and sent out invites to all the probable candidates. At the last minute Aaron Eisses, Steve Mackie and Robert McCormack entered by registering their names with the elections office. It's unclear if Fusion invited the three, but there was an announcement that none had RSVPed, so I'm assuming they did. In any event, Fusion kept to the accepted invite list and wouldn't let the three newcomers go through the interview process. McCormack showed up anyway, and Fusion announced that while he wouldn't be allowed on stage, he was welcome to "network" afterwards.
People can think what they want of Fusion's rejection of the three newcomers, but I think it was right. We're talking about a mayoral campaign, after all, where probably over a million dollars will be spent on advertising, and where the three main candidates have been knocking on doors and meeting with community groups for months. It really can't be considered a serious mayoral campaign, if you waited until the last possible moment to commit.
In any event, that left us with just three candidates interviewed by Fusion: Tom Martin, Mike Savage and Fred Connors.
The format wasn't conducive to a clashing of mayoral campaigns, and probably not intended to be so. I don't know how to say this, but there was actually something sweet about the innocence of the whole thing. The format encouraged each candidate to present himself without challenge, and so served as a pretty good intro to the campaign season.
There's not a whole lot to say about their performances. Each did pretty good, I think.
Tom Martin sounded sincere, wise to the ways of the world and not afraid to call things as they are or challenge the prevailing order. He stressed that he would put qualified people around him, and listen to them. At times martin tripped himself up, but not in a negative way, more as someone in a genuine conversation.
Mike Savage presented himself, rightly so, as an experienced politician. I do think, however, that he came off as overly rehearsed. At the end of his "interview" he stood up and addressed the crowd directly, which was allowed and fair enough, but he was all over the map rhetorically, seeming to me anyway as promising all things to all people. I'll drill down into that in a future post. But, that aside, I think Savage successfully underscored that his primary concern is communication.
Fred Connors has always been an energetic person with a forceful personality, but I've never seen him as energetic as he was Tuesday. Off the charts energetic. The format was designed as introductory, and Connors did that in spades, talking about himself and his experiences, especially as a north end entrepreneur.
With the limitations of the format—and of the questions—there wasn't much of an opportunity to get substantively into the issues. And the candidates didn't push, keeping in the comfort zone of personalities and picayune soundbites.
But while introductions are good, we need to get past this and into issues of substance. Even where issues were discussed Thursday, they were limited to the very narrow world of Fusion-friendly sensibilities; jobs and development. While those are important, we desperately need some honest discussion of poverty, affordable housing and what life in Halifax means for people who aren't welcome at networking shindigs.
Here's where we sit: Savage is clearly the front-runner, and if Martin or Connors are going to make headway, they're going to have to challenge Savage directly. Savage of course will avoid making much in the way of real comment about real issues, precisely to make it more difficult for Martin and Connors to challenge him. So Martin and Connors should challenge Savage on that.
For his part, Martin needs to become a larger personality. He's already done fairly well on the policy front, but he needs to deepen that and show us that he really cares about this stuff. I don't know if that means getting visibly angry or what, but I want to know why I think Martin the man is the right person to implement Martin's policies.
Connors needs to do the opposite, I think. He's got the large personality, but needs to show us some substance on the issues, concretely. Connors made much of his success in the private world, which is indeed worth talking about, but now he needs to show us how his success can become our success.