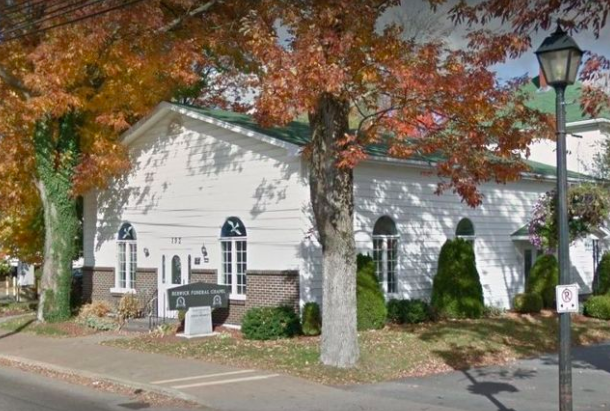 Update: In a bit of art imitating life, we confused two people in this article. Serenity's owner is Anthony Facey and its director is David Farmer. Farmer had his license revoked, but Facey was not disciplined in the board's decision. The cope below has been changed to reflect this.

The <strike>owner</strike> director of a Berwick funeral home has had his license revoked after a body mixup that caused the wrong woman to be cremated.
The Nova Scotia Board of Registration of Embalmers and Funeral Directors issued a decision Friday in the case of Serenity Funeral Home and how director <strike>Anthony Facey</strike> David Farmer handled the remains of Sandra Bennett
Relatives of the 65-year-old
previously told the media
they arrived at the funeral home for a visitation in December only to find the body of another woman, dressed in Bennett's clothes, at rest in the casket.
After complaining, Serenity presented the family with another body, which was also not their 65-year-old relative. Eventually, the family was informed Bennett had been mistakenly cremated.
"This was a tragic situation, one that no family should ever have to experience," says Service Nova Scotia minister Geoff MacLellan, in a press release. "What transpired has highlighted the need for more stringent regulations. I have directed work begin immediately, to ensure this never happens again."
Relatives of Bennett have been critical of the board of registration's handling of the situation and refused to participate in its closed-door inquiry last month. The family's lawyer, Paul Walter,
previously told the Canadian Press
that the board is "essentially run by people in the funeral industry."
In its decision, the board recommends several legislative changes to increase fines and improve the transparency of the industry's complaint process. It also recommends requiring funeral homes and crematorium to label human remains as soon as they are taken into custody.
"These recommendations give us the opportunity to improve the province's funeral industry, including processes, and to increase protection to consumers," writes MacLellan. "Every step is being taken to help ensure no family experiences such a devastating situation again."
Along with <strike>Facey</strike> Farmer's license being pulled, Service Nova Scotia's Registrar of Funeral Services also suspended the company's ability to perform cremations for a 30-day period.
The funeral home will continue to operate during the cremation suspension so any families who've arranged funerals aren't put out.