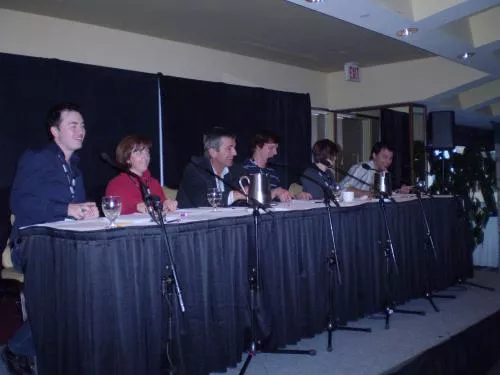 L-R: Josh MacDonald, Sherry Smith, Don Ritchie, Michael McPhee, Sara English and Scott Simpson
Coast coverboy, Nathan Fielder's doc (and that is a loose description of it) Love and Cameras in America has the gloss, feel and tone of an ambitious experiment, and often feels like a success, though some elements keep it from greatness. Fielder reminds us constantly that, though he has been assigned to cover a historic political race, he has zero interest in politics, no experience making films and no notion of how his story is going to turn out. This loosey-goosey concept is liberating sometimes - like when Fielder abandons his political story completely to chase a girl - and maddening others - sometimes the narrative feels lost and directionless.
I admire Fielder's experiment - he goes and latches onto perfect strangers, including aspiring actress Ashley and stunned college student Dan when he should be investigating the 2008 U.S. presidential elections - because of the audacity it takes to insert one's self into the lives of others. It's more akin to Sacha Baron Cohen in the way Fielder crafts his narrative out of his interactions with real people, than it is to the works of Barbara Kopple or Errol Morris.
Fielder gets extraordinarily lucky in the people he gets to participate. Dan is a simple soul, but his perpetually stunned expression masks a compelling screen presence and unintentionally sharp comic timing, while Ashley, oh Ashley, marks the film with as unsolvable a mystery as the fate of James Woods in Once Upon a Time in America; did the wanna be actress feel a genuine connection with Fielder or cook the chemistry in order to get some face time on film? It's a question Fielder doesn't know the answer to himself, as he revealed in his story written by my colleague Alison Lang.
The great success of Love and Cameras is the people Fielder invites into his film, but the problem is that Fielder doesn't know when to cut away from them. Scenes go on, and on, and on and on and often past the emotional climax. I recommend Love and Cameras with some reservations. It won me over more often than it disappointed me.
The Script-Out-Loud session in the Delta 8th Floor ballroom, convened in the afternoon to read out Scott Simpson's Dot's Will, the winner of 2008's Script Pitch Match. Josh MacDonald, Sherry Smith, Don Ritchie, Sara English and Michael McPhee took on multiple roles in the 100+ page script. It follows wayward Rev. Theo Walker, who gets fired from his current parish for his gambling and drinking preoccupations and exiled to the failing Glendale, Cape Breton. There he finds redemption in reversing the the downward spiral of the Glendale parish - they're going broke - and pitching woo to the local accountant, Nancy.
The piece was much more philosophical than I anticipated. Simpson's characters actively question the spiritual controls that govern their lives; Nancy is an atheist in a deeply religious small town and Theo doesn't accept that the church's failure is God's will like some of his parishioners do.
The reading also underlined some of the natural evolution inherent to the writing process. As Simpson took the piece from treatment (from which he made his winning pitch last year) to first draft, elements within the story expanded and contracted. Most tellingly, Simpson announced to the crowd that he was in search for a new title for the piece and if any one had any suggestions, let him know over the course of the festival.