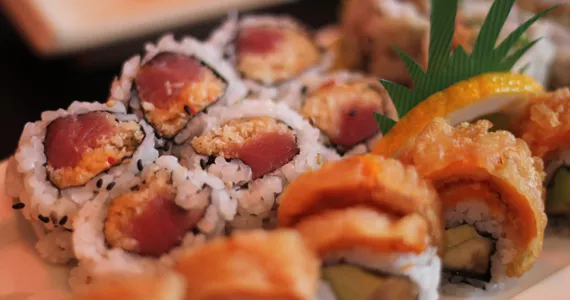 A row of dolls greet us in the stairwell of Wasabi House, a moment before we are greeted by a host as soon as we reach the top of those stairs. Colourful globe lights hang in the air, giving golden and blue-tinged pops of colour to an already rosy room.
We are brought to a table that is a part of a long booth that runs the right-hand wall of the restaurant. Across the room, there is a chef busy at work behind a small sushi bar.
Our server is tableside almost immediately, delivering heavy menus and taking our drink orders. Stephanie gets tea, Mark and I each get a soda. It's just a shade after noon, and the restaurant is almost empty when we arrive. That changes quickly.
The menu is huge. There are benefits and drawbacks to a lengthy menu at a sushi restaurant---there tend to be more vegetarian and vegan options, but there also tends to be a lot of slight variations, just a degree or syllable away from one another, which makes it feel like indecision can be read between the lines. A second lunch specials menu just adds to the pile.
Mark opts for a bento box from the lunch menu, while Stephanie chooses a donburi. I get a selection of maki rolls.
Stephanie's oyako-don ($9.95) comes with a soup and salad appetizer. Our server brings Mark and I each a bowl of miso on the house, citing the cold weather and telling us it will prepare our stomachs for later. (Our server, it should be noted, is a delight.)
The soup is a very mild miso with a few cubes of tofu and a bit of wakame. Stephanie's salad is a simple bowl of iceberg lettuce with a fresh, pungent ginger dressing.
The donburi---a rice bowl---is one of the great comfort foods, a hard-to-resist hot option at a sushi restaurant. The mirin, dashi and soy mixture gives it a sweetness and earthiness that is absolutely delicious with the creaminess courtesy of an egg scrambled into the mix. This bowl falls heavily on the sweet side, highlighted by tender onions. The presentation is a bit beige and bland---I like it when you get to stir the sunny yolk in yourself---but that's the only weak point.
The chicken stir-fry bento box ($9.95) from the lunch menu is a hearty meal. The main feature is teriyaki chicken on rice, a well-cooked breast with sadly bland sauce. The other compartments hold a stir-fried cabbage, which is slightly peppery and tender, a little pile of the same green salad Stephanie had, tightly rolled avocado maki and light, crisp vegetable tempura.
The bananayama roll ($7.50) is a tempting combination of sweet and creamy flavours---the banana adds a sugary hit to smooth, fatty avocado. While the sweet potato tempura layered on top adds a textural difference from other rolls, it's verging on soggy. Conceptually, it's one of the better novelty rolls I've had, though it falls short of great.
While the rolls are tight and the rice is well-cooked, the unagi maki ($6.50) and spicy tuna maki ($6.50) both suffer from accent ingredients overwhelming the fish. The unagi roll is essentially a cucumber roll, with barely a hint of eel and an almost non-existent eel sauce. The spicy tuna roll relies far too heavily on tempura bits, and resulting in a tumbleweed of dry crispiness that blows over any spice and tuna flavours.
Even with the gentle "you can do it!" urges of our server, I can't manage my way through the last few rolls on my plate. We are all incredibly full, so we pass on dessert and head out of the now-full restaurant.
The food is uneven, but the same can be said for most sushi restaurants in town. Wasabi House is a nice addition to Quinpool Road, and judging by the bustling dining room on our way out, a welcome one, too.