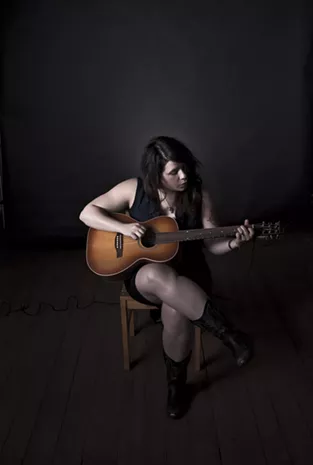 After entire days in dark theatres, three shows in one evening seems like a walk in the park. Unfortunately,
Lumber Jack & Jill's Double Date
was only scheduled for the beginning of the festival, so there are no more opportunities to catch this improv show. Last night's edition included special guests
Mark Little
and
Naomi Snieckus
who joined talented improvisers from
Make 'em Ups Improv Co.
for a wacky and memorable double date.
Country Song
★★★½
This is a remount of Lee-Anne Poole's popular one-woman show first seen at the 2013 Queer Acts Festival. (Read about the creation of the show
here
.) Poole presents an engaging combination of vulnerability and ease on stage. She pokes fun at her musical ability, yet her warm, smokey voice is confident and lovely. The original songs in
Country Song
are all about heartbreak and broken dreams, but Poole herself radiates resilience and strength. The show was written as a part of a voyage of self-discovery that includes revisiting her past and challenging herself to face her fears. It's a journey that both inspires and entertains.
My Funeral: The Dry Run
★★★★
Poetry and profanity share the stage in this honest and hilarious show. Writer/performer Jane Kansas, a self-described micro-manager, goes into great detail about the particulars of her send-off: no church-y stuff (well except for the church-lady sandwiches), music by Joni Mitchell (a very funny facsimile of which is provided by a pre-recorded Tara Thorne) and above all, funeral attendees need to speak from the heart. This last directive leads to a honest and touching filmed eulogy that lays bare the faults and foibles of the "deceased". While
My Funeral
seems on the surface to be about death, Kansas has actually created a piece that asks you to consider what's important in life.