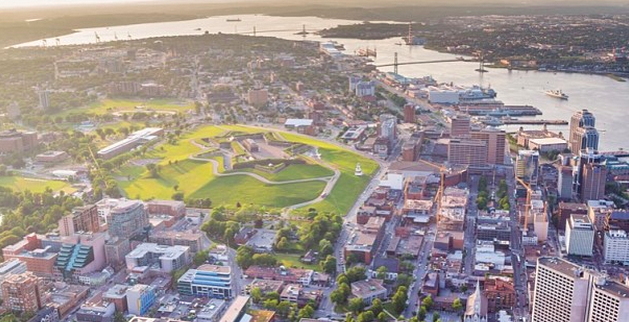 1
Andrea Gunn at the Herald takes a look into the campaign war chests of Nova Scotia's candidates in the soon-to-be-announced federal election. Incumbent Geoff Regan and the Halifax West Liberal Association have the richest bankroll ($147,452), followed by the Central Nova Conservative Association ($124,588) of outgoing Justice Minister Peter MacKay (who will be a good little boy and go where he's told during the election). The Halifax Liberal Association (who will be looking to elect Andy Fillmore over NDP incumbent Megan Leslie) has the fourth-highest account ($91,864).
2
Speaking of Megan Leslie, her efforts to ban microbeads appear to have paid off.
3
Mother's Pizza's Tyson Wachter and Dharma Sushi's Ami Goto have put their good tastes together to bring you Full Moon Izakaya. It's a monthly Japanese-style pup pop-up, bringing small snacks and sake to the table. As you may have guessed from its name, Full Moon takes place the Saturday closest to the full moon—the first installment being tomorrow. Melissa Buote chatted with Wachter and Goto about the project, and the Saturday's five-course menu, and DAMN it sounds good.
4
"Judge quashes Charter complaint over Halifax police posing with dildo." Jessica Flower gets all the fun stories.
5
Aside from wondering where the heck all of HRM's drinking fountains have gone, Lezlie Lowe also wants to #FreeTheNipple. Lowe's column in today's Herald relates the story of the Waterloo, Ont. Mohamed sisters, who were recently stopped by police for riding their bikes topless. The sisters have lodged a complaint (toplessness isn't illegal in Ontario), and a planning a rally for this weekend. Writes Lowe:
"I'm all for the rally. But what will really make a difference—what will work more to desexualize women's breasts—is more everyday toplessness.

I'm talking walking the dog, picking up the mail from the community super box, depositing your paycheque at the ATM. If it's sticky out and you'd feel cooler without a shirt, go for it. Seeing breasts in magazines? Doesn't count. I'm looking for reality. Lopsided. The odd hair…The more breasts are boring, the more they are peripheral to people's everyday experience, the less their arrival feels like the start of a porn film. And the less women's bodies will matter. The less women will be sexualized."
6
Buzzfeed looks into the Isle Madame "murder for lobster" story and concludes that probably no one was actually murdered for lobster. It's a long read but full of the kind of colourful malapropisms ("Benadryl" for "adrenaline") that makes one homesick for Cape Breton.
+1 Sure Thing
Calgary punks La Luna fucking rip. Thrashing, violent guitar and drums pave the way for wailing, desperate vocals that make their short songs feel like quick shots of adrenaline straight to the chest. Catch them tonight with Weed Thief, Kings Girls, heiße and Geil.
———
+1 bonus long weekend gif party
Everyone you know is leaving work early to get to SappyFest, so that's all for today. Bye. So long. Enjoy the three-day weekend. See you Monday.