It was about a year ago that Adam Otmar and Jill Mulveney had the idea to run a little coffee shop out of the back of a bus. The two veteran baristas envisioned a sustainable mobile cafe in a small school bus, but struggled to find something tall enough to accommodate their north of 5'10" heights. With a gut feeling, the couple bid on a decades-old, adorably squat fire truck in an online auction—without seeing it in person—and won. Six months later, after bringing it from Kingston, Ontario to Otmar's hometown of Hubley, the bright red, boxy rig is now Frankie's Espresso Bar.
"We've both been really interested in cafe culture and cafes that create ambience—it's more about that than coffee in general. That feeling you get when you're in a nice warm, welcoming cafe," says Otmar. "That's the drive behind what we're doing, creating that atmosphere and ambience but in a more mobile setting."
Together the pair, inspired by many of the inefficiently laid-out cafes they'd worked in, designed and renovated the truck themselves, making the very most of the compact space. The truck itself was in good shape, save for broken blinkers and a busted alternator, making the beautification process fairly easy.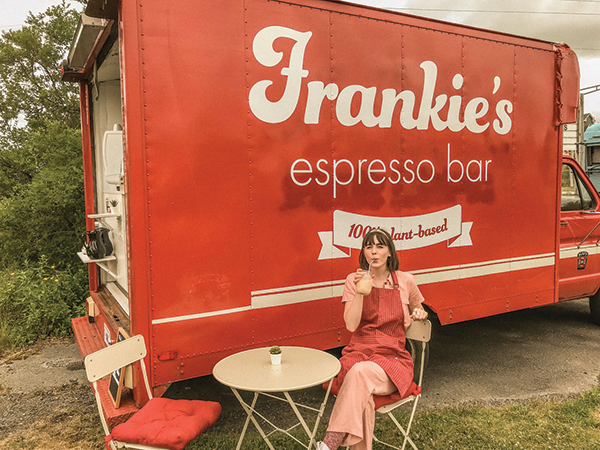 "We wanted it white, bright and open," says Otmar. "We serve out of the back door so you can see the whole truck, making it seem as big as possible."
Apart from the whole firetruck thing, Frankie's also stands out because of its 100 percent plant-based menu. Every single drink is made sans-dairy products, and Otmar and Mulveney bake all of the vegan and gluten-free cookies, doughnuts and macaroons themselves.
"We try to eat as locally and consciously as we can, but another thing we learned from working in coffee shops is the amount of dairy milk they go through in a day," says Otmar. "We were off put by it, it could be 20 to 30 litres of milk a day for a small cafe. We decided if we were to open something, we'd want to be different."
For now, Frankie's is parked at the Tantallon Farmers' Market (16 Sonnys Road, Upper Tantallon) on Tuesdays from 2-6pm, and its owners are working hard to secure more parking spots in the city. Keep tabs on its whereabouts, special event appearances and general cuteness via @frankiethefiretruck.