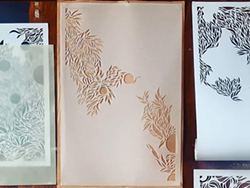 Screening and reception: Penance and Reconcile
Nov 28
The Khyber, 1880 Hollis Street
6:30-9:30pm
free
---
Francesca Omolara Ekwuyasi has been thinking a lot about the intersection of queerness and faith.
"The faith I grew up in, the way that it's practiced in my home country of Nigeria, is inherently homophobic and heavy on the shame," explains Ekwuyasi. "It's been a personal struggle for me—not really a struggle but a journey—to figure out how to make peace with who I am while also wanting to practice my faith."
The Halifax-based writer, filmmaker and visual artist has been exploring this intersection during her November residency at the Khyber. She's been working on two complementary projects: Penance and Reconcile.
Penance is a large-scale paper cutout project. Ekwuyasi hopes to fill the Khyber gallery with her intricate designs.
"The process is quite repetitive and meditative," explains Ekwuyasi. "And because I have an injured shoulder, it is also sometimes painful. So it just became a kind of joke that it's my penance because I grew up Catholic."
Reconcile is a documentary film project. Ekwuyasi interviewed her subjects while they cooked. "The idea," says Ekwuyasi, "is that the person will be cooking a meal that means something to them: either a source of comfort or something significant from their cultural background while talking to me about their queerness and faith."
There will be a reception and screening at the Khyber this Thursday to mark the end of her residency and unveil both finished products.
"I'm hoping to just have more conversations about it," she says. "And on a more personal note, I hope that I can kind of let it go a little bit so as to get back that space in my mind.