E
mma and Sonny Adamski started Manual Food and Drink Co. in 2013 to explore their respective creative outlets. What began as a sold-out doughnut subscription service soon became a well-loved pop-up at markets and festivals. Emma baked the sweets, Sonny brewed the coffee and together they developed a taste for owning a business. "We decided to work toward opening a cafe," Emma says. "We knew it would be the perfect use of both our skill sets and interests."
After inheriting soft-serve equipment from Sonny's parents—they once ran a TCBY—the Adamskis started growing a sticky roster of frozen treats. Looking for a way to launch their ice cream project, the stars aligned when they stumbled upon Steve-O-Reno's iconic drive-thru trailer, which arrived on the market just in time. After carting the renovated shack to South Park Street, Emma and Sonny opened the Dairy Bar in conjunction with Stillwell Beergarden. A sweet piece of eye candy, it immediately hooked a dedicated crowd with its soft serve flavours, sundaes, popsicles and cold brew. "The Dairy Bar became its own thing, but it was always a means to an end to start our cafe," Emma says.
When the Adamskis started looking for cafe locations, they asked Graham Read to join them as a business partner. "It's really nice to have someone else who can provide an alternative perspective," Emma says. Read, who has a background in woodworking and coffee roasting, had just returned from living in Amsterdam. Having grown up in downtown Dartmouth, he was excited about the opportunity to plant new roots in his community.
A modern take on the American diner experience, Cafe Good Luck opened in August on Portland Street. "We have a lot of good spots here already, but the one thing we're missing is a casual breakfast-lunch spot," Sonny says. "As Dartmouth residents, a lot of the things we offer are things we selfishly wanted for ourselves."
The cafe's menu is simple on purpose because Emma, the restaurant's chef, found that people have been craving classic, everyday brunch options. "There is an unbelievable amount of people who just want quiche and a side salad, or soup with toast," she says. While the menu changes each week, it retains a skeleton of several unchanging items, including a quiche, the Monsieur— a sandwich with shaved ham and gruyere between two slices of brioche and topped with torched bechamel—and a badass breakfast sandwich.
While the menu may not highlight the entire scope her culinary abilities, what's important to Emma is that it offers dishes people drop by to order every single day. "We wanted to make a place where people can afford to visit often and feel comfortable, rather than making a space that's just about our own interests and preferences," she says.
"Ultimately, it's about giving people what they want. As the chef, it's almost scarier than putting together fussy, multi-component things because everyone has their own version of these classics. I can get pretty nerdy and specialized, so it's about finding ways to have these creative outlets—like sneaking a few fun things on the menu—while still keeping our food accessible."
Good Luck places equal weight on its drink offerings, especially the caffeinated ones. "When you're bringing in nice coffee from all over the world, you want to make sure it's treated respectfully and done well," Sonny says. "If not, what's the point?" The beverage menu also includes a selection of wines and local beers for when the lights dim slightly and the cafe transitions into an early-evening hangout spot.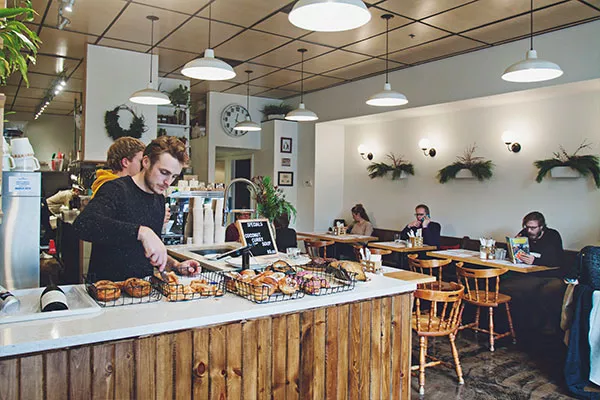 At less than 1,000 square feet, Cafe Good Luck is a bustling space. From most angles, it's possible to catch a glimpse into the kitchen where staff are busy prepping and plating meals. Patsy Cline plays in the background as customers sip coffee from Pyrex mugs and take in a clean, clever collection of timeless-meets-modern decor. French cleat shelves above the bar allow a myriad of potted plants and knick-knacks to be rearranged at will and the black table bases date back to 1906, repurposed by
Read
to retain their historical integrity. Even the bathroom has been meticulously wallpapered with clippings from old magazines, novels and Richard Simmons' campy cookbooks.
As a social spot in downtown Dartmouth, Read and the Adamskis wanted to ensure that Cafe Good Luck was equal parts charming and accessible for all types of people.
The seating is a combination of classic round-backed dining chairs and an old church pew that lines the side wall. There's also a crescent-shaped booth in the front window which has become popular amongst young parents—it's the perfect height for strollers and highchairs.
"Seating is really important because not everyone is as equally-abled as others," Emma says. "We tried to make it accommodating and comfortable."
"We're starting to attract people of all demographics who are working us into their daily routine. I love our regulars."