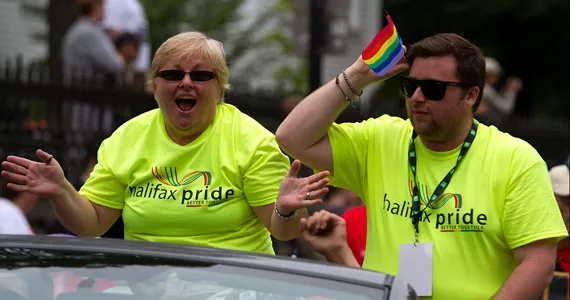 A former vice-chair of Halifax Pride is missing in action after he allegedly stole $16,400 from the festival last year. After making every attempt to contact him, police have an arrest warrant out for 27-year-old Chris Scullino, who they believe is currently in Quebec.
Scullino is accused of depositing money meant for Halifax Pride in his own bank account on two occasions, Halifax police spokesperson Pierre Bourdages tells The Coast. Court documents reveal he allegedly snatched the funds between April 30 and September 1, 2013. Festival chair Ramona Westgate says the organization noticed the money was missing a few days after the festival ended on July 28.
Pride organizers contacted police for advice right away, she explains. Once they received paperwork from various sources in September, police started their investigation.
"What we really want to put out there is that the discrepancy was noted immediately and actions were taken immediately," Westgate says over the phone. "Unfortunately once we start getting into the specifics we could affect the ongoing investigation and we don't want to impede that in any way. Hopefully all of that will come out in the legal process."
As far as she and other board members can recall, this is the first time a financial issue of this magnitude and nature has happened to Halifax Pride. As a result of the incident, Westgate says financial polices and controls have been changed, but wouldn't be any more specific about those changes.
The missing funds barely dented the organization's total budget of $292,000. Despite the alleged robbery, Halifax Pride still ended 2013 with nearly $77,000 in net income.
Scullino was appointed to the Halifax Pride board in 2012, however the 39 festival members who voted him in may have missed a possible red flag when he was up for election. At the 2012 AGM, Scullino, who was new to the city and had no previous experience with Halifax Pride, presented a recommendation letter from former executive director of Pride Toronto, Tracey Sandilands, who resigned amid financial controversy in 2011.
Under Sandilands, the Toronto festival lost almost $432,000 in 2010. The same year the organization spent an extra $100,000 on staff salaries and benefits. Pride Toronto also paid Sandilands' partner $40,000 in 2011 while simultaneously laying off six staff. The former ED also made headlines when Pride Toronto attempted to censor signs in the Pride Parade.
The last time board members saw Scullino was during the 2013 festival, Westgate says. Unlike civil proceedings, the case can't proceed until Scullino appears in court. But, the Pride chair hopes he will be brought to justice. "We have faith in the legal process," she says.