You've captured the layout and design, you know which furniture and fixings you want to put on display, and the final step to setting up your space is actually finding the time of day to put it all together. Turning your house or apartment into a
home
can easily be the most exciting part of moving or redecorating—but when you're doing it all yourself, it can also be the most time-consuming. We live with an endless to-do list already, and the last thing we need is the added stress of hanging a painting, assembling a piece of furniture or cleaning up our backyards.
Rather than spending the next few months putting off the important jobs, why not leave it to the experts to get the job done on time?
IKEA Canada's
partnership with
TaskRabbit
means your dream home can finally become reality—and it's just the click of a button away.
IKEA Canada already brought us easy-to-assemble, well-designed and affordable functional furniture and TaskRabbit makes everyday life even easier for the everyday person. TaskRabbit is a task management network that instantly connects you with a network of skilled "Taskers" to help with odd jobs and errands you haven't gotten around to doing.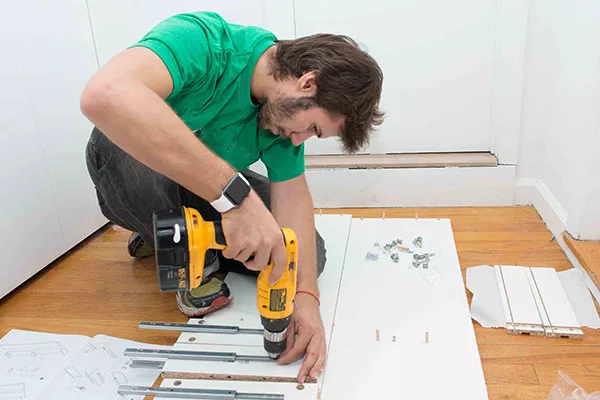 Get ready to say "goodbye" to DIY, and "hello" to the gift of time.
TaskRabbit puts you back in control of your life. By connecting online or via the app, you can decide when you want to get the project done, even if you need it done the next day. Rest assured that you'll always work with a real and reliable human from your local community who truly cares that you get the efficient solution to your home setup.
Thanks to TaskRabbit's accessible pricing, transparency has never been easier. Along with knowing the "who," you'll know the "how much." No funny add-ons, or last-minute changes; the pricing is fixed from the moment you click on your Tasker. You'll know exactly what you'll be paying, and you won't have to pay until the job gets done.
The app allows you to openly communicate with your Tasker prior to your scheduled booking, so you can clearly explain the specifics of the job you need done, while establishing a solid relationship with your chosen Tasker. These independent contractors can complete work in assembling, installation, home repair, or cleaning, and each Tasker is background checked, rated, and reviewed by previous clients.
IKEA already brought comfort and ease to their self-assembly, but this partnership just means that you can sit back and watch your life assemble itself.
The booking process follows four simple steps: You will purchase your IKEA item, select the items you need assembled, match with your perfect Tasker, and pay for the job after it's done. In-home assembly starts at $32, and there is a network of Taskers in Vancouver, Calgary, Edmonton, Toronto, Halifax and Ottawa.
When you realize the possibilities your home can offer, you can turn it into a place of rest and relaxation again. Check the stress at the door; IKEA Canada and TaskRabbit's commitment to convenience, community and quality means you can get back to living your life.
You can learn more at IKEA.ca/TaskRabbit
This content has been developed and paid for by Ikea Canada without involvement from The Coast's editorial department.