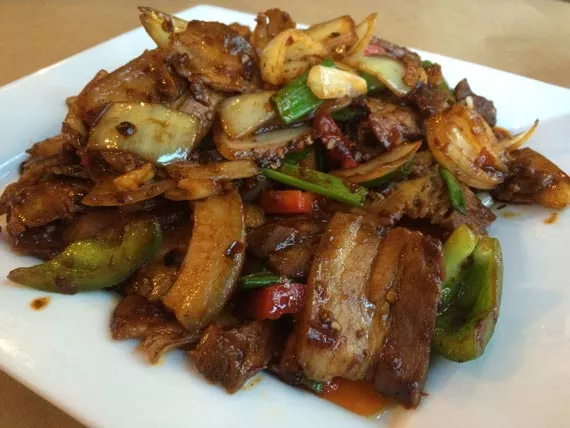 It's not the greatest first impression. The door creaks open into a hall that feels like the foyer of an old apartment complex: a scattering of abandoned mail sits fanned over a white pleather sofa, the harshly lit hallway ends with some plywood and a plant shoved in the corner. An unmarked door leads to Forbidden City.
The restaurant is thankfully nicer than the entry. The dining room is painted a deep crimson, accented by bright red lanterns, colourful vases and fine-lined leaves and blossoms in the art on the walls. The tables, covered in kraft paper, give the space a more casual air.
It's empty when I arrive. There is just one server behind the counter, and she's on the phone taking a delivery order. Once she hangs up, she greets me with a smile, then leads me to a big table by the windows to wait for my friends. A few other small groups come in as after.
By the time my friends arrive, the dining room is half-full, buzzing with conversation. Clangs and scrapes pour out of the kitchen on a wave of onomatopoeia. The server comes by a few times for our order before we're ready—it's a sprawling menu that includes classic Canadian-Chinese favourites along with some Northern Chinese items, and it takes a while to make our choices.
After a short wait we're presented with our egg rolls ($1.75) first, along with small bowls and chopsticks. The rest of the plates come out one at a time over a span of about 10 minutes: double-cooked pork ($15.99), Chongqing spicy chicken ($19.99), Singapore vermicelli ($12.99) and after a bit of a lag, the pan-fried green onion cakes ($11.99).
As fans of meat-paste egg rolls, we are all delighted by Forbidden City's take on the appetizer. The pork and bean paste mixture is heavily seasoned with Chinese five-spice, so they have a warmth and sweet spiciness to them that sets them apart from the pasty crowd.
The twice-cooked pork is mildly spicy; the sauce is a very pleasant mix of sweet, savoury and spicy, with just a hint of acidity. Thick ribbons of pork belly are tossed with chunks of red and green pepper, tender white onion and wilted strips of green onion. The menu had indicated it was a relatively spicy dish—two little chili peppers on a menu that indicates the hottest dishes with three—but nobody's lips are set a-tingle.
Rimmed with a dark brown crispness that adds a flaky bite to the dense dough, the green onion cakes are slightly greasy, but make for a great side dish to the pork. They expertly sop up the chili oil that pools at the bottom of the plate.
Advertised as spicier than the pork, the wok-fried Chongqing chicken is salty, garlicky and even a bit smoky, but there is again very little heat to the dish if you don't actually eat the dried chili peppers the chicken is tossed with. The chicken is served bone-in, so the meat is tender and flavourful, as easily addictive as chicken wings.
The weakest dish is the Singapore vermicelli, slightly one-note, with the tiny shrimps that barely register with any flavour. But pops of very sweet BBQ pork give the dish a bit of life, as do some soft ripples of egg that weaves its way through the noodles. Some bean sprouts, julienned carrot and thinly sliced celery add a bit of crunch.
Forbidden City is a good restaurant, with Northern Chinese food that is perhaps more accessible than restaurants where dishes hum with more heat. But like Sweet Sue and Her Society Syncopators, I like it hot.
---
Forbidden City Restaurant
1518 Dresden Row Mon-Sun 11:30am-11pm 902-425-1818
Read more reviews at thecoast.ca/restaurants