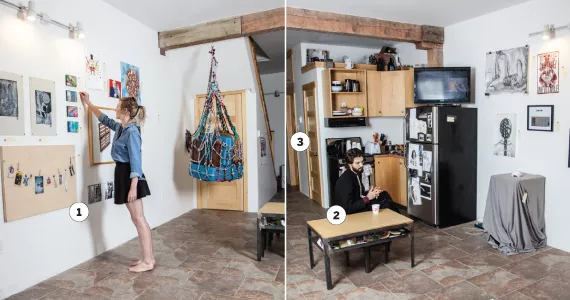 When Laurel Wagner and Jacob Perry first moved into their new condo on Gottingen Street, the large white walls of their kitchen screamed "art gallery" immediately.
The couple, who both study at NSCAD, debuted the Young Offenders Gallery almost three weeks ago during Nocturne. "There aren't many places to show art in this city anymore, and that's why we opened," Perry says over coffee one Sunday morning, sitting in the kitchen where they hosted a show with musicians Nick Everett, Craig Currie and Jom Comyn the night before.
Named after a song by indie rockers The Constantines, the couple says the gallery's mandate is to showcase an eclectic range of contemporary work from young artists in the community. For their first show, the couple put out a brief call for submissions and accepted everything. The result is a hodgepodge of un-curated, un-themed creativity. The next show is a Constantines' inspired installation by Perry in honour of the band's performance in Halifax on November 14.
There's also a second gallery in the bathroom, aptly called the number two gallery, displaying the couple's own work. Wagner says the plan is to make room for other artists' work, but she's aware not everyone is thrilled at the idea of hanging their art next to a toilet.
Because the gallery doubles as their home, the gallery will open to the public roughly once a month for exhibitions. "We want to make this space as much about other people as possible," says Perry.
In the meantime, they're still figuring out the logistics of running a gallery, connecting artists with interested buyers without having to wheel and deal or hustle for art. "We don't want to do any of that," Perry says. "We're gonna stick to not being a business and just be the most punk rock gallery ever."
1. "We don't want people to know what to expect and we don't want to know what to expect," Perry says of the gallery's artwork. The walls feature a variety of work, some which are simply pleasing to the eye, while others challenge viewers. One such piece is Kylie Dyment's photographs from a performance piece titled, "Don't Pass Out," where she re-explores a sexual assault that happened to her at a party in high school.
2. "There hasn't much been much luck with showering lately," jokes Perry. With one bathroom, the pair has to disassemble and then reassemble the number two gallery on a regular basis. Besides that, they say life carries on the same—just with a bit more art.
3: "People ask, 'Is it still a functioning bathroom?', and it's like, 'yeah, give it a shot,'" says Wagner. "It's not like we're inviting them into a pretentious gallery. We're inviting them into our home," says Perry. "When you're shitting around art you don't feel better than anyone for being in there."
---
Young Offenders Gallery
2130 Gottingen Street

youngoffendersgallery.tumblr.com
Young Offenders Galllery on Facebook