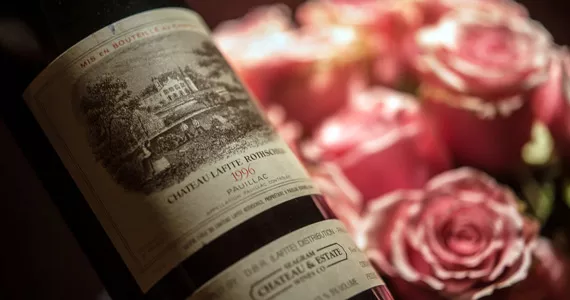 The wine list at Onyx is extensive, to say the least, with 320 bottles of red, white and sparkling wine ranging from $29 to thousands. Appropriately, they label their wines by occasion–"everyday," "celebratory," "special occasion" and "you only live once"–to organize, and perhaps to legitimize, the small fortune one might pay for a wine in the latter category.
A bottle of Bordeaux from Château Lafite Rothschild–a wine snob's dream, and collector's item–is priced at $3,500 and kept under key in an exposed-brick cellar at the chic restaurant.
The Chateau has been operating and making wine for nearly a century-and-a-half. With age comes wisdom, notoriety and value, when it comes to Bordeaux.
Lafite Rothschild is a "first growth" or "first cru" vineyard of the Bordeaux region in France meaning that in 1855 when the region created a classification system with five ranks it was one of the four chateaux to rank first. In 1973 one other vineyard in France was elevated to that rank, bringing the total to five. The ranking system is based on reputation and price, and is influential in the perception of quality, but today some Bordeaux without first growth status will score as well as the first growth chateaux of Bordeaux.
Wines produced at Château Lafite-Rothschild are some of the best on the earth, and 1996 was a particularly good year across Bordeaux. The wines from that year are said to be structured, rich, complex and will only get better with age, right through to 2050.
The world's leading wine critic, Robert Parker of Wine Advocate, said, "The 1996 Lafite-Rothschild is unquestionably this renowned estate's greatest wine."
The hefty price tag at Onyx is due to two main factors: "It's the most expensive for us to buy, so it's the most expensive on our list" and "Bordeaux first growths are the highest quality...and it was a singular, fantastic vintage," says Shannon Bruhm, vice- president of operations for RCR hospitality group.
Merchants and traders are selling single bottles of the 1996 vintage online anywhere from $1,100 up to $2,050. A combination of consumer demand and the quantity of wine produced also influences the buying price of wines.
"We don't sell wines like that very often, it's a cache bottle," says Bruhm, but a bottle like the Lafite-Rothschild is a standout on Onyx's wine list and gives variety.
Having such reputable and collectable bottles, as well as a good array of affordable wines, is what has won Onyx many Wine Spectator Awards.
---
Château Lafite Rothschild, 1st cru classe, Pauillac 1996
$3,500 at Onyx, 5680 Spring Garden Road
Grape varieties: Eighty-90 percent Cabernet Sauvignon, five-20 percent Merlot, Cabernet Franc and Petit Verdot
Tasting notes: "The wine exhibits a thick-looking, ruby/purple colour, and a knock-out nose of lead pencil, minerals, flowers and black currant scents. Extremely powerful and full-bodied, with remarkable complexity for such a young wine this huge Lafite is oozing with extract and richness, yet it has managed to preserve its quintessential elegant personality." 100 points —Robert Parker, Wine Advocate