Government House, the official home for the Lieutenant Governor, is also the official residence for the Queen, if she so decides (there's no confirmation she's actually staying there). Walking in on Sunday afternoon it's so quiet, there's little indication that royalty's on its way—except for maybe the giant portrait on the staircase, and the metal barricades lined up outside. The 200-plus year-old pad certainly looks guest-ready, especially after three years of renovations that cost upwards of $6 million.
Government House's executive chef Steven Galvin was nice enough to open his kitchen and give us a look at what he's preparing for Queen Elizabeth, Prince Philip and their entourage.
Chef Steve rolls out orange, pecan white-chocolate biscotti for tea.
Galvin is no stranger to cooking for dignitaries. Before he came to Halifax in October 2009, he was a chef for a Canadian ambassador in Rome. For this trip he'll be cooking two dinners, two teas and two breakfasts for the royal couple, as well as meals for their security and entourage of 14 and a reception for 60. He says he doesn't differentiate who he cooks for, Galvin wants it to be good, though he admits this is a special occasion. He will get a chance to meet the Queen and Prince Philip in a staff procession, but won't directly serve their meals.
Obviously Galvin needs a little help in the kitchen (which smells fantastic), and so he's enlisted other local chefs, including chef Erika Reeves from the Prince George who's making shortbread when I arrive.
Erika Reeves decorates shortbread.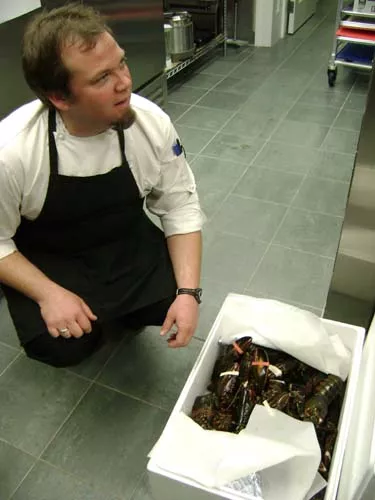 The Queen apparently eats just about anything—Galvin sent her a package of menus from which she chose what she wants—but she doesn't eat shellfish when she travels (also, I have to imagine it's hard being queenly when you're wearing a lobster bib). On Tuesday night she will be eating Cape Breton Highland beef tenderloin (well-done) with a truffled lobster sauce, Caribou Island asparagus (picked on Saturday) and rosti potatoes accented with wild mushrooms.
See those barnacles? That's what you want.
Wherever possible, Galvin uses local food and food vendors—though it's not quite the same as the food markets in Rome. All the seafood comes from Mikes Fish Shop, including Monday night's Atlantic Salmon Boudin with poached baby leeks, cucumber "sour kraut" and cucumber basil jelly. Will the Brits appreciate the play on German cuisine after Sunday's crushing World Cup defeat?
Breakfast for two: white toast, whipped butter, bran cereal, plain Fox Hill yoghurt, possible pancakes and bacon, maple syrup, blueberry syrup, cold homogenized milk, cream, coffee, milk.