Exhibit 400, Common Roots Urban Farm, Bell Road at Robie Street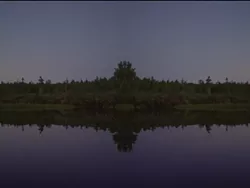 In
Folded River
, artist Alex Balkam's creative process is mined to create an immersive piece of expanded cinema.
Working with Thomas Evans and Jonathan Mandeville of Passage Studios, Balkam reconstructs a version of a landscape he's known since childhood, one that he returns to again and again when searching for inspiration or needing to cleanse his artistic palette. Part of a lifelong study of place, Folded River is presented from the perspective of an empty canoe floating downstream.
A 16mm film is played of the river on two screens: A purple sky reflected perfectly in the still water, the right screen mirroring the left screen, all folding together where the screens meet. The dark tree line sways side to side, each half pulled to the center, and the entire scene appears to bob slightly as though at the head of the canoe. The particularities of the environment become inverted as the scenery converges, melting the landscape into a non-place, or any place.
"This is where vanish appears for me," says Balkam, articulating his connection to this year's Nocturne theme. "My version of vanishing is turning inward, this folding of time and place."
While working from the personal, Balkam's work allows for each visitor to experience their own moment of clarity. Viewers can move inside the work, with a passage for them to enter and travel through, moving closer to the scene. This sculptural cinematic environment is an immersive experience that also allows visitors their own moments of turning inward, encouraging them to pause and reflect, or become lost in the hypnotic rhythm of the river.