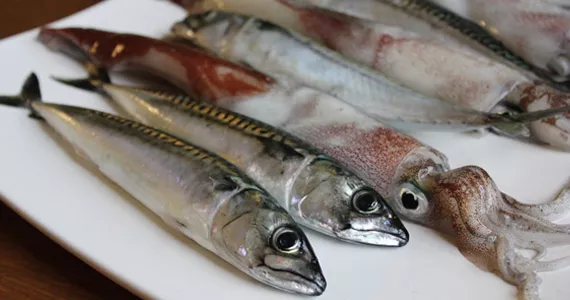 There's a storm of ideas brewing in Larry Fogg's head, but opening his own restaurant isn't one of them.
"Restaurants, for me, are over," the 20-year veteran chef says. "We're really looking at doing events." Harnessing community ingredients with innovative services, Larry and his wife Gilly Fogg are shaping the future of local cooking from their picturesque home in Hubbards. That's where they set up their St. Lawrence Kitchen. The small take-away shop is anti-restaurant in design, offering a constantly changing menu of delectables.
"It really is the food that's being created around us that sort of informs what I make," Fogg says. "We change the menu every day here, and it's really what comes through the door and what I can find."
What does come through the door is often what his neighbours have in surplus. Through Fogg's vegetable bartering system, anyone can walk in with bunches of produce from their garden and walk out with some of whatever tasty offering he whips up.
"I have families that have huckleberries on their properties. They'll pick me a big batch of huckleberries and I'll make ice cream from it and they get some of the ice cream back," Fogg says. "I just love the idea of my own personal Hubbards CSA box," he adds.
Keeping with these hyper-local endeavours, the Foggs are now planning their first Summer Party, a spontaneous celebration which will debut July 6 at the Hubbards Sailing Club, and will feature Gilly hosting while Larry cooks for their 50 paid guests.
"We've been doing supper clubs as well," says Larry, "and we just needed to freshen things up. We came up with this, and it just seemed like something people wanted. It's the kind of thing that we enjoy going to—a little bit of live music and a wide array of food."
This first party will feature an evening of Asian-inspired tapas. Home-brewed kimchi, lettuce wraps with glazed pork, Thai curry, Cambodian minced pork and peanuts will be part of the waves of food spilling out of the kitchen. The next party, also at the sailing club on August 10, will be a "BBQ deluxe".
In between summer parties, running the St. Lawrence Kitchen, bartering for vegetables and running a voluntary school lunch program, the Foggs will be working on their website which looks at the politics and cooking of wild food. Those elements will form part of Larry's planned autumnal equinox supper club.
"It'll be as much as possible wild food that we've foraged," he says, noting that some ingredients still need to be sanctioned by the province. "It looks like rabbit is going to be allowed, and possibly some bear."
For many chefs, their own brick and mortar restaurant is the ultimate goal. But Larry Fogg would rather his success open the door for bigger, stranger ideas. Things like an "unknown restaurant," which Fogg says would have patrons walk through a remote forest before arriving at an isolated shoreline packed with luxurious foodstuffs.
"Things like that excite me. They may only happen four or five times, and then we're on to the next idea."
Cramped in a small kitchen or spread out on a barren beach, it seems likely the Foggs' special flavour of cooking will remain both old-fashioned and cutting edge.
"It's what we love doing," Larry says. "We love the sort of chaos of it."
---
Summer Party
July 6 and August 10, Hubbards Sailing Club
215 Highway 329, Hubbards
858-3131
St. Lawrence Kitchen
10361 St. Margarets Bay Road
stlawrencekitchen.com