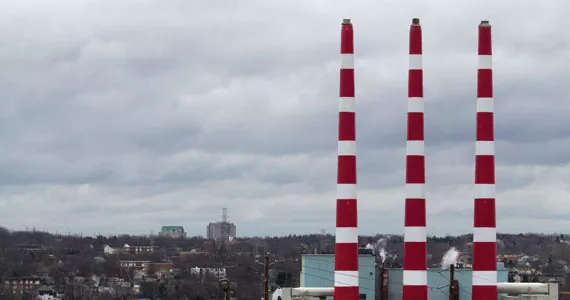 An environmental group from Tampa Bay, Florida came to Halifax this week to protest their local energy provider's mother company: Emera Inc.
Emera Inc. is the billion-dollar multinational corporation that owns 10 affiliate companies including our homegrown NS Power and international power companies like TECO (Tampa Electric and Peoples Gas) in Florida.
If you haven't already guessed, Emera deals with generating, transferring and distributing electricity through its various subsidies. And it sparks a pretty profit from keeping its corporate hands deep in the pockets of non-renewable energy.
In 2018, it reported more $6.5 billion in revenue. Florida accounts for 51 percent of that and Atlantic Canada 23 percent. Its net income for the first quarter of 2019 is $312 million, a 13 percent increase from last year.
The Sierra Club is an international environmental justice non-profit organization dedicated to addressing climate change in tandem with social justice. A handful of members from the Tampa Bay chapter flew to Nova Scotia, teaming up with local Haligonians to protest outside the Halifax Convention Centre as Emera shareholders entered to attend Emera's annual general meeting.
They want to see Emera reverse the move to invest $853 million in changing TECO's Big Bend coal plant to a natural gas facility.
"We know that not only is Emera NOT planning to turn off coal plants in Nova Scotia, it's asking shareholders to invest in a very expensive natural gas plant in Florida," says Gretchen Fitzgerald, director of the Atlantic Canada chapter of the Sierra Club Canada foundation.
TECO claims this natural gas is an "environmentally friendly" source of energy.
But the protesters showed up to call Emera out on its false claim and to demand a better and more meaningful plan for reducing its plants' carbon footprints. They say it could be investing that money into true renewable energy and that choosing a slightly less bad (but still bad) source of energy and continuing to use coal past the 2030 deadline set by the federal government isn't enough.
The only renewable energy from Tampa Electric is solar-generated, but it doesn't even account for seven percent of generated electricity.
This actually makes Nova Scotia look like our Green Saviour in return, despite the fact it still goes out at the slightest hint of humidity or wind. But watching folks from the south flock to the north to demand better action from the same corporation that owns NS Power may be the first warning sign that what comes after coal might not be what we need.
Coal still fuels 53 percent of Nova Scotia's energy–the most coal-dependent electric grid in Canada–and it's only expected to decrease to 38 percent by next year. Only 30 percent of power from NS Power is from renewable energy.
The reduced coal use will be replaced by importing hydroelectric power from Muskrat Falls says a NS power spokesperson. The same Muskrat Falls mega-dam that's billions of dollars over budget, almost three years late and displacing Indigenous people from their lands. It's been called Newfoundland's biggest mistake. The Narwhal recently reported that hydroelectric dams aren't actually as profitable as they're touted to be. Muskrat Falls will flood the wetlands that are home to its namesake, the muskrat.
We are saying with a unified voice," said Florida Sierra Club member Gonzalo Valdez at the protest, "'come clean, Emera.'"