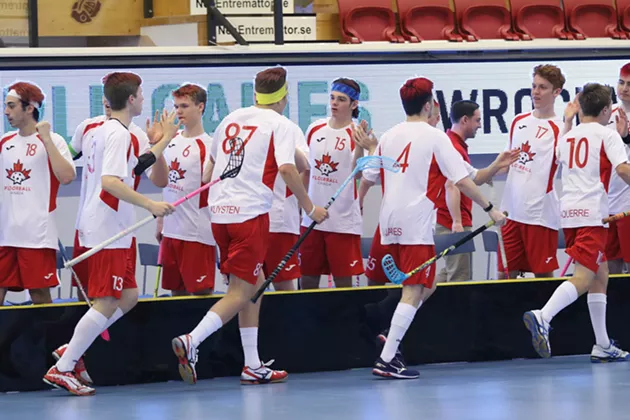 Halifax has played host of to a number of major sporting events, including the World Junior Hockey Championships in 2003, the 2015 World Men's Curling Championship and the World Figure Skating Championships way back in 1990. Now this week it's hosting the world championship for something called floorball.

The 2019 World Floorball Championships for men under 19 take place at the Dartmouth Sportsplex and the Dalplex from Wednesday, May 8 through Sunday, May 12. There will be over 400 players representing 16 countries.

Floorball resembles indoor hockey. Players use specialized lightweight sticks, and instead of a puck there's a plastic ball with holes in, very much along the lines of a wiffle ball. Unlike hockey, goalies don't use a stick to help defend the net. Putting absolutely no spin on the binary paradigm dominant in the sporting world, the winner is the team that scores the most goals.

Floorball partisans say it's one of the fastest-growing sports internationally, complete with it own day (April 12), and it has spread far enough that there's a Floorball Nova Scotia association. The sport was originally created in Gothenburg, Sweden and started out as a popular school game. Then formal rules were created as floorball leagues became more popular. The first under-19 world championship was in 2001, and it re-occurs every two years.

Canada's opening game of the 2019 championship will be against Germany at the Dartmouth Sportsplex, May 8 at 7pm. Tickets are available for $10 for half a day or $15 dollars for a full-day pass. As well, the International Floorball Federation will be streaming games on its YouTube channels, here and here. The finals will take place on the weekend, with the champion crowned on Sunday.