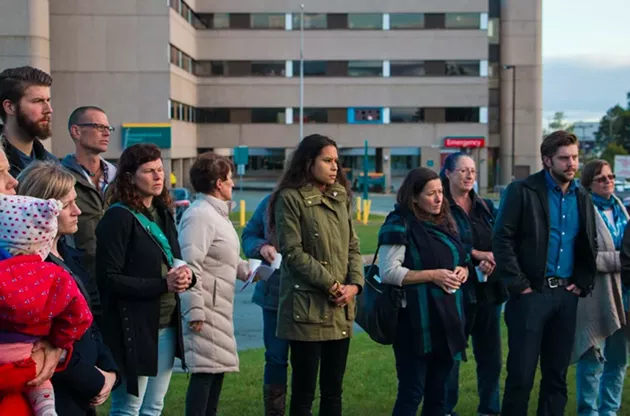 The mood was somber and supportive, but the tone indignant, as poet El Jones led a rally for the rights of Fliss Cramman, who was shackled to her hospital bed while recovering from surgery.

Jones posted a call to arms on Facebook earlier this week in order to rally people to the Dartmouth General hospital on Thursday evening. A group of about 30 people came together in support of Cramman, a permanent resident of Canada who came over from England when she was eight years old and now faces deportation.
"We have a voice, and when we use the media and we use our voices, we can achieve justice," said Jones, about Crammon's shackles finally being removed on order of Justice minister Diana Whalen.

The public outpouring of support did its job but more still needs to be done, said Jones.
"It's not just one woman's case, obviously the shackling was horrific, but there are so many other injustices that are happening," she said.
Supporters at the rally wanted the public to know that Cramman was a victim of systemic injustice that plagues women all over Canada.

"She had a conviction. She served her time fully. She is one of us," said Martha Paynter, chair of the Women's Legal Education and Action Fund in Halifax.

Jones, Paynter, and those gathered at the rally stressed that even though Cramman has been unshackled, there remains a need to come together about how people in detention are being treated.


Jones calls it "disturbing" that someone simply detained by police can be shackled. She wants the laws changed to avoid any future recovering hospital patients being handcuffed to their beds.
"We need changes to the law so that no child, ever, comes to Canada and is at risk of being deported. When you come to Canada you are our child now. We take care of you," said Paynter.
The deportation of Cramman could still be on the table for the Immigration and Refugee Board. Cramman is still too sick to leave the care of her physicians, who have said that she needs at least 18 months of recovery time.