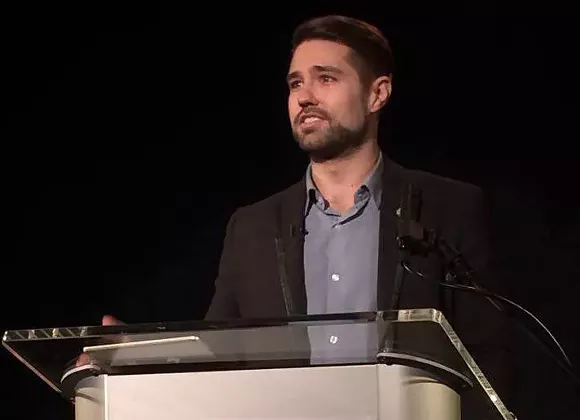 The musty scent of an old, soggy mop that permeated The Bus Stop Theatre on Saturday evening didn't dampen Brenden Sommerhalder's mood as he anxiously awaited the arrival of guests. Sommerhalder was preparing to make an official announcement about his upcoming run for city council, which was prefaced by the one-off performance of the brief satire Flat Fee: A Tale of Two Bureaucracies.
The play focuses on a fictitious development battle over Citadel Hill. This symbol of rich history and a source of pride for Halifax becomes the focus of a political struggle between the provincial and federal government. Halifax's recent development craze has led to the province asking for a cool $25.8 million to transform historic Fort George. Ottawa's counter offer: 10 bucks. The giant slope that is Citadel Hill isn't deemed fit for development.
The ensuing verbal battle between the capital and "the donair coast" results in a promise by the province to level Halifax's historic site and sell it off to the highest bidder if Ottawa doesn't cough up the cash to develop it by April 16, 2016. An angry mob of pitchfork-carrying Haligonians arrive to protest the "dozing of the Citadel," but Ottawa doesn't cave. The next day, Ottawa announces plans for the Citadel Hill Memorial Park which will be built on the now decimated historic site. The cost of this project—$25.8 million.
Conceived by Sommerhalder and written by Meghan Hubley, the play is an absurdist take on the very real concerns about rapid development in Halifax and anxiety over the gentrification of the north end. It was directed by Keelin Jack, and featured performances by Kat McCormack and Leslie Smith.
After the performance, Sommerhalder explained the importance of launching his campaign at the Bus Stop Theatre, as it's the only co-operatively run theatre in Halifax and an important part of the community. He also acknowledged the work done by Jennifer Watts, the councillor he hopes to replace.
"If I do have the honour of being elected, I would seek to follow councillor Watts' example of thoughtfulness, community advocacy and principle—I too would also vow to seek a maximum of two terms."
This morning, the candidate launched his "Let's Start at Yes" website, which you can view right here.