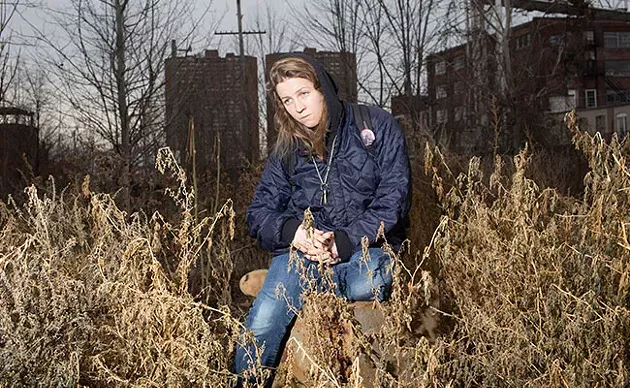 Fiver
w/Stewart Legere, Lydia Persaud, Brooklyn Doran

Thursday, January 18, 7:30pm
The Carleton, 1685 Argyle Street
$20 adv/$25 door
Simone Schmidt's fascination with history began, like so many do, with a newspaper. Schmidt, who fronts the band The Highest Order and makes rootsy folk music under the name Fiver, says she had always found herself more interested in the world around her than the annals of history. One day, however, she read a story about the Rockwood Asylum for the Criminally Insane and how the first women to live on its property were housed in horses' stables—a troubling, disquieting image.
Schmidt, as a songwriter, saw a story that she wanted to share. And so she wrote a song, the first step in what would become a remarkable creative project.
"I sang that song around for many years, but then I wanted to know what life was actually like for people at Rockwood, after singing for so long about it," she says. "When I looked further, I realized that there weren't many secondary sources and in order to find anything out about life there I had to get into the archives."
In the years that followed, Schmidt spent months sifting through archival material about the Rockwood Asylum, which operated in Kingston, Ontario from the mid-19th century until 1959. Rockwood housed the "criminally insane," people who were marginalized from the social orders of prisons and other institutions because of a mental illness or disability. Its history is murky and often uncomfortable—a document of how people living with mental illness and disability have been systemically marginalized and mistreated.
Last year, Schmidt released Audible Songs from Rockwood, a set of 11 artful folk songs inspired by her research into an institution's history. Rockwood is a deeply felt reclamation of the asylum's historically marginalized voices and exploration of why—and how—we share our history. This week, she's bringing Rockwood's songs, their accompanying stories and her meditations on history to In the Dead of Winter for an intimate set at the Carleton.
"Anything that you read about the inmates at Rockwood would have been written by the judges, police [or] superintendent," she says, describing the systems of power that are embodied in the primary materials that she was researching. "Reading that, it becomes clear that there's a definite bias within the historical record. And that was something that I had been aware of, vaguely, but when it's embodied in the physical hand of the people in charge, when you're reading the ink on the paper in their handwriting, it is all the more striking."
Schmidt describes her dive into the archive as "deeply compelling work," a process that allowed her to understand the roots of issues that still manifest themselves today. As the Rockwood Asylum's purpose occupies a "grey, hybrid area" between reform and punishment, its history calls to mind questions about current institutions and carceral systems. She notes that there exists a present-day resonance to many of the themes she explores, citing the overrepresentation of Black and Indigenous people in Canadian prisons and the criminalization of poverty as two examples. Still, she's hesitant to draw direct parallels between the stories she's bringing to light and the contemporary moment. If nothing else, she illuminates the great danger that lies in oversimplifying history or settling for easy answers.
And so the questions that she began her project with—who is writing our history, how is it told and how might we pull it into question—remain at the centre of Audible Songs from Rockwood. The record is accompanied by a 30-page book of liner notes, assembled by Schmidt under the alias of a fictional ethnomusicologist named Simone Carver. Included in the notes are lyrics, field notes and two "unsingable songs"—a complex textual experience that resonates with the music it accompanies.
"People read facts as facts, and sometimes don't consider the ways in which they're delivered," says Schmidt. "That was the purpose of having the liner notes written in the ways that they were, by someone who's entirely fictional: To prompt questions around the subjectivity of an historical record, and examine who's delivering the information.
"I don't think that we're often prompted to do that," she says. "You really start to think about the impact of delivering history in such simplistic ways."