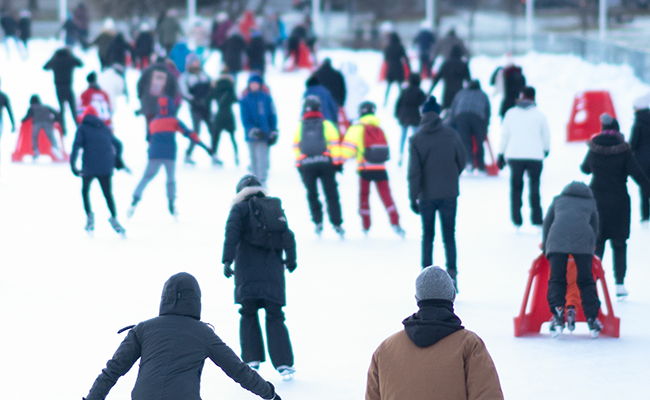 1. Skate
There's nothing a dose of vitamin O can't fix. The Oval—AKA the most joyous place in town this time of year—has you covered when it comes to free-for-all ice surface, also no-cost skate rentals, a warming room, top 40 radio and so many cute families and dates and brand new skaters. There are lots of rinks (and ponds) where you can lace up and skate for free or cheap, but nothing quite tops the love-thy-neighbour feels of this spot.
Halifax Common, halifax.ca for schedule
---
2. Snowshoe
OK, so we have no snow—yet. But when we do, there are mountains of options when it comes to traversing it via snowshoe. Enjoy some brisk laps around the Common with a free rental from The Oval, or visit one of the city's many community rec centres—like Bedford, Hammonds Plains, Needham or Captain William Spry—most of which loan out pairs for free.
---
3. Hike
For those who are looking to get a little woodsy sweat on but would like some company, groups like the Chebucto Hiking Club are a perfect way to meet folks and demolish your daily step-count record. Every Thursday the CHC heads out on two 10 kilometre jaunts (at 9:15 am in Dartmouth and 4:15pm in Bedford) along with multiple others every month. They welcome you to try a couple for free, but the annual club membership is just 10 bucks. Full schedule at chebuctohikingclub.com
---
4. Curl
The crew at Good Robot Brewing Company wants to see you hurry hard. They're hosting The Tournament of Broken Hearts for the third year running, encouraging sweeping, swilling and socializing. Sign up as a single player, or as a team. There are four dates to pick from: February 2, February 16, March 2 and March 23.
Mayflower Curling Club, 3000 Monaghan Drive, 1pm and 7pm, $25
---
5. Swim
Not really into being one with the winter sports? Take the plunge into the north end's body of water, Centennial Pool. With 50 metres of water to soak up, you can enjoy an aquacize class, swim some laps or practice your best swan dive. With an accessible lane and woman's only nights, plus a $4 drop-in rate, Centennial makes space for every body to float on, comfortably.
1970 Gottingen Street