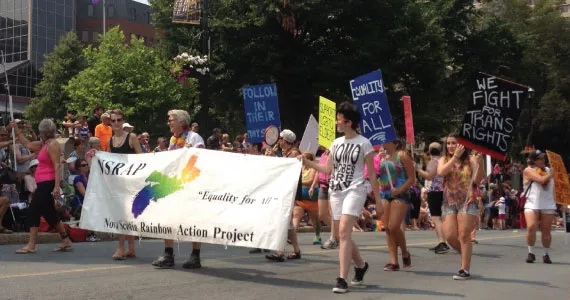 1 Nova Scotia Rainbow Action Project
nsrap.ca
You could have a great time promoting social equality with this colourful organization. "NSRAP advocates for equity for people of all sexual orientations and gender identities," says Kate Shewan, chair of the board of directors. She suggests students take advantage of the online application to join NSRAP. "When signing up you can indicate areas of interest for volunteering." Whether you want to plan a party, lobby government or wave a flag in a pride parade, there's a job for everyone at NSRAP.
2 Food Not Bombs Halifax
foodnotbombs.h-a-z.org
If you like food and dislike structure then Food Not Bombs might be your cup of tea. The Halifax chapter of Food Not Bombs is not a typical organization with members and a mission statement. "Most of what we do is chaotic and on the fly," says its website. "Yet somehow, we manage to serve incredible meals twice a week." Food Not Bombs celebrates community, food and freeganism by hosting completely free public meals on Sunday afternoons and Wednesday evenings.
3 Bide Awhile Animal Shelter
67 Neptune Crescent, Dartmouth,
bideawhile.org
Bide Awhile is the purrrfect organization for pet lovers. "We deal with neglected, stray or abused animals and attempt to find suitable homes," says Janet Pattern, public relations coordinator for the shelter. This no-kill shelter provides a safe environment while working to find forever-homes for every animal that comes their way. The shelter also runs a campaign at fixtheproblem.ca that advocates the importance of spaying and neutering pets. "If students are interested in animal welfare or in helping homeless animals, this would be a great place to volunteer," says Pattern. "We have opportunities to help with fundraising and events and to contribute to committees."
4 Solidarity Halifax
solidarityhalifax.ca
Many post-secondary students experience the divisive reality of capitalism when paying tuition. While that financial drain means less beer money for some, for others it means schlepping to and from food banks. One of Solidarity Halifax's current campaigns is fighting to make post-secondary education free. "Capitalism is an oppressive economic system that puts profits ahead of the needs of people and the planet," says its website. This organization promotes alternatives to capitalism through various campaigns and campaign strategies that rely on an active, multi-generational membership. If you think capitalism is too cruel a rule, then make some change with Solidarity Halifax.
5 Ecology Action Centre
2705 Fern Lane, Halifax, ecologyaction.ca
If you're bogged down by environmental concerns, visit the Ecology Action Centre's green building. The centre actively promotes sustainability at local, regional, national and international levels. "We have seven teams in which volunteers can get involved: food, coastal and water, energy, wilderness, transportation, marine and built environment," says EAC policy director Mark Butler. Why should students plant themselves at the Ecology Action Centre? "To make a difference and get real-life environmental experience," says Butler. "You can do everything from answer phones, to write policy, to dress up as a shark. And volunteering can help the CV and even your grades."