1. Mojito Kettle Sour
Roof Hound Brewing Co. (4.3% ABV, 17 IBU)
Available now
"We have made it before, but it has been reinvented with a new souring technique and a warm fermenting Norwegian yeast strain that creates citrus characters," Roof Hound owner Les Barr explains via email. This beer is kettle soured, dry-hopped with cascade hops, mint and lime. If you're on board with the sour trend, check out page 14 for more sour power.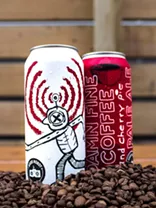 2. Damn Fine Coffee & Cherry Pie 

Good Robot Brewing Co. (5.5% ABV, 32 IBU)
Available now
That's damn fine coffee you got here in Halifax! And damn good cherry pie. This pale ale—a "java-beer hybrid"—is back and available in cans. "We used a lovely malty pale ale base and 'dry-coffeed' it with Java Blend beans via our pals at Low-Point Coffee Co.," says Kelly Costello, brewer and bartender at Good Robot.
3. Coast to Coast Collaboration

North Brewing Co. and friends
Release May 24
In honour of the Canadian Brewing Awards hitting Halifax, North Brewing teamed up with five other brewers in the country to launch five collaboration beers all made with yeast from Escarpment Labs in Guelph. "It's awesome for Canadian breweries to be able to source their yeast and bacteria from a Canadian company," says North co-owner Rozina Darvesh.
Aries
(in collaboration with Tatamagouche Brewing) is a
saison
barrel-aged in Tempranillo red wine barrels with Escarpment Lab's Belgian Sour blend.
Hapi
(with Dominion City Brewing in Ottawa) is a brett
berliner
weisse
brewed with Escarpment Lab's Lactobacillus Blend and fermented with their Brett Q strain, then bottle conditioned.
Chrysomallon
(with Escarpment Labs) is a witbier brewed with Escarpment's Fruity Witbier strain and conditioned on locally foraged and dried
golden rod
.
Caltha
(with Ale Architect in Edmonton) is Grisette brewed with Escarpment's Old World Saison blend and conditioned on calendula and dried rosehips from the World Tea House.
Njörðr
(with Four Winds Brewing in Delta, BC) is a Nordic farmhouse brewed with Escarpment's Hornindal Kveik blend, which underwent a secondary fermentation on locally foraged sea buckthorn juice and berries and was conditioned on chamomile.
4. Stone Fruit 
Summer Ale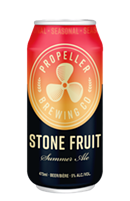 Propeller Brewing Co. (5% ABV)
Release June 1
If you cried when Propeller discontinued its Honey Wheat and Organic Blonde, it's time to dry those tears and rebound—because the Stone Fruit Summer Ale is one of
multiple
new brews you can expect from Propeller in the near future. This low-IBU beer (exact number TBD) tastes of mango, peach and apricot without the inconvenience of a pit. "Basically, it's going to be the perfect patio beer," marketing manager Evelyn Hornbeck tells us.
5. Cryo Me A River
Tidehouse Brewing Co. 
(7.5% ABV, 40 IBU)
Release June 15
Tidehouse is set to launch a bottled version of its New England-style IPA, which is made with mosaic and
simcoe
hops. Co-owner Shean Higgins describes this beer as "slightly hazy," featuring "juicy tangerine, papaya and pine flavour with some peach notes."