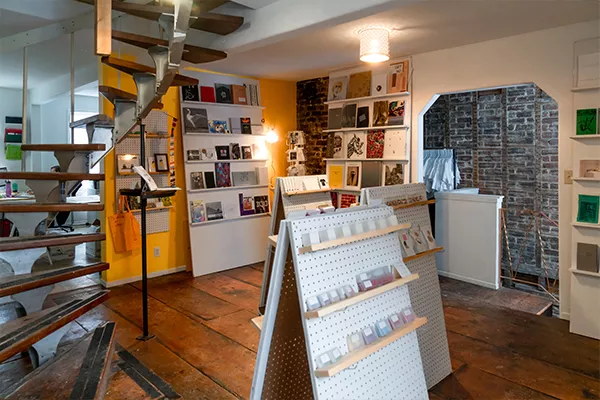 Eyelevel Artist Run Centre & Bookstore
Tue-Fri noon-5pm
2177 Gottingen Street

Of all the doors lining Gottingen Street, only one is as bright yellow as a banana or sunflower petal. Only one is a secret portal to shelves lined with work by some of the city's most exciting artists. Only one leads to Eyelevel Artist Run Centre & Bookstore's new home.
"It sort of worked out well, it was a little bit of kismet," artistic director Sally Wolchyn-Raab says, sitting in front of a matching yellow desk inside the Eyelevel space—down a whitewashed, exposed-brick hall and up a flight of stairs to the upper portion of 2177 Gottingen Street. At the end of October, as Eyelevel's old space on Cornwallis began major repairs to recover from Hurricane Dorian ("Towards the end when it rained, it rained in my office"), the punk-spirited music, art and activism hub Radstorm was looking for an upstairs tenant. Now, with the renovations finished, the new space on Gottingen is open for visitors.
Together, the two arts organizations are ideal housemates: "I think Eyelevel is a little scrappy ourselves," Wolchyn-Raab adds, by way of showing similarity with Radstorm's DIY ethos.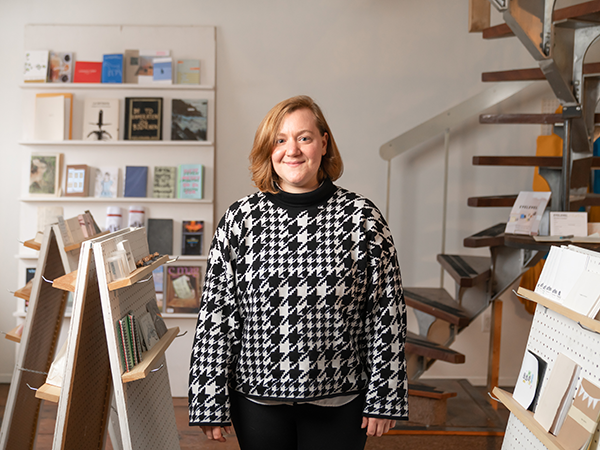 It's all as optimistic as the colour yellow: In the midst of gentrification's endless march throughout Halifax's north end, here's an arts organization opening a new chapter on a street crowded by increasng upscale development and some of the the city's last indie spaces standing.
"I'm cognizant of the fact that there is a point where organizations like Eyelevel play a part in being a gentrifying body," Wolchyn-Raab says. "But there has been something really optimistic about us making a return to Gottingen Street, and I think people who know Eyelevel from 20 years past are really excited."
After operating as a spaceless gallery in the mid-2010s, hosting pop-up events around town, and then getting an office space and bookshelf on Cornwallis Street, the new incarnation of Eyelevel fits Wolchyn-Raab's goal of a community hub. Offsite programming will remain a glut of the gallery's focus, but the drop-in-and-browse, curated-boutique feel of the space's bookstore—the main room of the new Eyelevel, filled with pegboard shelves holding everything from framed prints to art-covered condoms to back issues of art magazines—provides a much-needed physical footing.
"My intention in moving here was almost to create a bit more of a format and framework of what we were when we were here: So rather than having a space that's constantly shifting and people aren't really gonna know what to expect when they walk in the door, I wanted to create something stable people could latch onto," Wolchyn-Raab explains.
"This is an old residential space so what I've really enjoyed about it is that it has kind of a homey feel and that's something I feel other people were picking up on right away," Wolchyn-Raab adds, saying her favourite feature of the two-floor space is the statement-y spiral staircase. It leads to Eyelevel's upper floor, which is full of studio space for artists to rent.
"I think being in a space that has that history of being residential can definitely create a bit of a more homey feel and be less formal and more comfortable—and that's something I'm really excited about."