Brightwood Brewery
35 Portland Street, Dartmouth
A
decade ago, Matt McGrail was that university student who messed around with mediocre beer kits and tried (unsuccessfully) to pawn off the sludge he concocted. But when McGrail started Brightwood Brewery years later with his co-worker Ian Lawson, they couldn't refill their growlers fast enough.
The pair's homemade brewhouse in Lawson's basement was a simplistic yet elegant assemblage of parts that only made sense to the two mechanical engineers. In need of a larger system, McGrail and Lawson gave up their busy spot at the Alderney Landing Farmers' Market to work towards opening a new brewhouse and taproom on Portland Street in an open-concept building shared with Lake City Cider.
"I never once thought it would go to this scale, I was just having fun," McGrail says. "But we started brewing, and it was surprisingly good."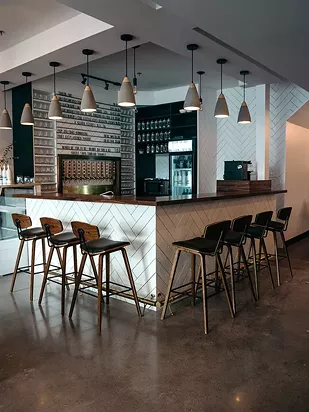 The shared storefront is bright and open with floor-to-ceiling windows. Working machinery encased in glass embellishes the entrance and allows light to seep into the room. "That's our water and fire," Lawson says about the tangle of pipes and levers. "It's supposed to be in a pit underground, but I thought we should put it here to open up the room." An invisible line divides Brightwood and Lake City, carrying through to production. Behind the scenes, both businesses occupy a respective side of the space with Brightwood's fermenters and brewing vessels on the left and Lake City's on the right.
The taproom's lineup currently includes Made Me Blush, a rose Belgian IPA; Smokey the Beer, a honey-smoked ale; and Voice of the Doggos, a
saison
brewed to support the SPCA. The
saison
, crafted by head brewer Erica Fraser, was brewed with rye and
sweetfern
, which Fraser foraged by hand. "Erica has a background in microbiology and she brings a ton of knowledge," Lawson says. "We're hoping more and more of her style will start to show in the beer."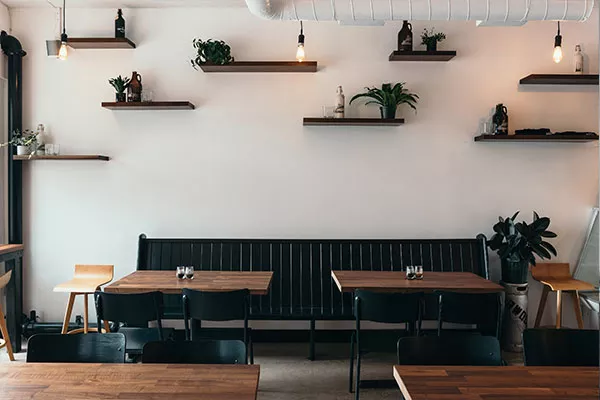 McGrail and Lawson drew on local inspiration for the taproom's design. Even the taps are shaped and striped to resemble Dartmouth's
smoke stacks
. Those stacks are also featured as a logo on Brightwood's growlers, along with the Macdonald Bridge. "In the end, these landmarks kind of connect the two cities together," Lawson says. "You look at Dartmouth's candy cane stacks from Halifax, and you can see the bridge from both sides."
McGrail and Lawson believe in Ray Oldenburg's concept of "third space"—the middle ground between work and home that fosters a sense of place and community. "We're young professionals with families and we want to give other young people that third space," McGrail says. "There's no question that people are interested. They've been knocking on our door and peeking their heads in."
Influenced by the farmers' market where Brightwood began, McGrail and Lawson hope to recreate that vendor-friendly atmosphere throughout the space with pop-ups and collaborations. Soon, they'll have a display case featuring local food from downtown businesses such as The Canteen and Humble Pie. Marked with little flags, these goods will highlight the work of Dartmouth locals.
Brightwood isn't home or work, but a happy mix of the two. McGrail encourages people to take advantage of the taproom as a mobile office just as much as he encourages passersby to drop in, sit down and engage in a good conversation.
"We need more spaces like this in Dartmouth," Lawson says. "I work from home a lot, and I often find it hard to get out and find that mobile office."