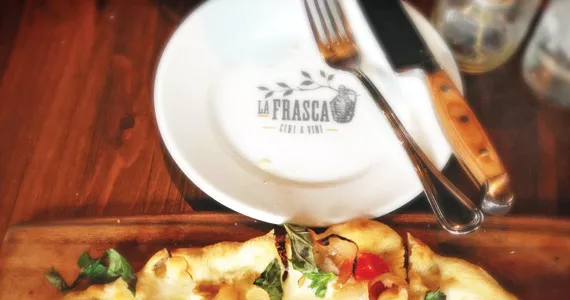 Things are picking up steam at La Frasca when I stop in for dinner. The dining room is a little over half full and tables are being pushed together for various reservations. I ask for a table for two and am told that will be impossible, but I am welcome to sit at the bar, where they offer full service.
That's when I get lucky: my friend is already seated. I make my way through the jumble of tables tightly packed into the dining room and sit down. Within a few minutes the tables around us are also full.
It's a warm, convivial space. The Bertossis have finally managed to renovate all of the Harvey's out of the joint. The dining room has an easy, classic design to it with lots of dark wood and wrought iron, fake candles and shelves with glimmering jars and copper pots adding flickers of light around the room. A pastiche of images that looks like a decoupage Google image search result for "Italy poster" is a notable feature.
The menu is sprawling, a little overwhelming. I had expected something a little simpler, similar to the more casual trattorias and osterias I've been to in Italy. Instead this seems to be a simple twist on the Bicycle Thief concept, with a slight price drop.
Our server is very friendly, quickly bringing my Aperol Spritz ($10) and making sure water glasses are full and everybody's happy. He answers a list of questions with aplomb, telling us which pastas are house-made and what dishes he likes best. After some consideration, we order the artichokes, asparagus, and vidalia onion ($10) and the tris di crostini ($12) as appetizers, and gnocchi ($16) and polpetta ($22) to follow.
The vegetables are a fritto misto di verdura---battered, fried vegetables. With the artichokes in particular I had been hoping for something closer to carciofi alla guida, without the batter, but it is all quite tasty. But there is an incredible amount of salt in the dish.
The crostini is OK. The first features slow-roasted pepperonata. It's sweet with the slight heat from chili peppers calmed by a touch of mozzarella. The second has duck leg confit and fig marmalade. It's a nice combination, though an excess of oil dulls the sweetness of the fig. The third, blue crab with lemon aioli and roasted radicchio, is bland with a thirsty stringiness to the texture. It is awful.
After our plates are taken away and replaced with two huge, new platters, we dig into the entrees.
The polpetta is intimidating: three huge meatballs cast a shadow on the polenta, green beans and mushrooms making up the rest of the plate. The only problem with this dish: there is no relief from salt, which at this point I feel comes down to a cook with a salty palate. It's a shame, as the quieter flavours in the background---the sweet tomato sauce, earthy mushrooms and the herbs in the meatballs---would really shine in a comforting way if they weren't blown out by the salt shaker.
The gnocchi is better. The potato dumplings themselves are well-made---fluffy and flavourful. The ragu is teeming with tender ribbons of lamb shank. The meat is tender, and the sauce has a nice depth of flavour to it. The acidity and sweetness counterbalance the saltiness quite nicely.
For dessert we decide to split the cannoli sundae ($10). It is cloyingly sweet, impossible to eat. Our server takes it away and removes it from our bill for good measure. Frankly, our server is awesome. If we hadn't had such good, attentive service I would probably walk away feeling a little, well, salty. But thanks to him, I left happy.
Write your own review for La Frasca here
---
La Frasca Cibi and Vini
5650 Spring Garden Road, 422-2866
Mon-Sat 11:30am-late