When Air Canada flight 608 finally touched down in Halifax in December 2013, it marked the beginning of Pedram Niakan's new life. He was excited. Above all, he was terrified.
Not many people visit Halifax in the winter, least of all people from warmer climates. Yet he was moving in. Voluntarily.
Niakan, 25, first stepped foot on Canadian soil in a flurry of anticipation, confusion and, yes, snowflakes. His arrival in Halifax coincided with Nova Scotia's first big storm of the season. The city was under the weight of 20 centimetres of snow. More than 2,000 people lost power.
Welcome to Canada.
Niakan was seeking refugee protection in Canada because of fear of persecution in Iran based on his sexual orientation. Niakan is a gay man. In Iran, intercourse between men can be punished by death.
Niakan knew little of maple syrup and tobogganing when he applied for refugee status in Canada. He yearned for the rights and freedoms most Canadians take for granted. Still, moving wasn't easy. He didn't leave behind his family, friends and country for money. He just wanted to live.
"It was my choice to leave Iran, but it wasn't my choice," he says.
His blonde hair, green eyes and pale skin mask a life spent in the sweltering Middle East, his freckles the last vestiges of a summer's heat. The only betraying trait is his thick Persian accent.
As he stepped outside the revolving doors of the airport, he was hit with a blast of icy wind. The air felt like small pinpricks on his skin. Snowflakes powdered his hair and he shivered involuntarily against the cold unknown.
He was home.
———
From the safety of Halifax, Niakan can talk about growing up gay in Iran. He remembers sitting in his living room, watching television with his family. Flicking through the channels, he landed on a documentary about transsexuality. He lingered, transfixed by the images on the screen, before changing the channel. He felt guilty under the watchful eyes of his parents, who were regarding him with suspicion—guilt by curiosity.
He came out to his parents only after making the decision to leave Iran. His father was sitting in an armchair in the living room reading a newspaper. His mother, whose stylish blonde hair is a result of bleaching creams rather than genetics, was putting away dishes in the kitchen. Like her husband, she was a teacher before the Iranian Revolution relegated her to the role of a housewife.
It wasn't a surprising announcement, but an explanation. The only sounds that could be heard in the house were the continued rustling of a newspaper and the reverberating clattering of dishes. He wasn't met with tears or insults. Not a word was said.
Eight months later, Niakan was standing at the departure gate on the precipice of his new life, with a one-way ticket to Turkey clutched in his fist.
"If you find it very difficult, you can come back," Niakan's father assured him. Niakan knew that wouldn't be possible.
His mother held her son in her arms for what may be the last time on Iranian soil. The atmosphere was heavy with mournful acceptance. Only his sister, Sara, tried to keep things light. "Don't worry," she said. "I will come visit you after a few years!" Teasing him, she said he was lucky to escape.
Not knowing if he would ever see them again, he didn't feel very lucky. He didn't harbour any regrets for leaving Iran, but he was riddled with guilt. Guilt for not being the son his parents longed for. Guilt for making the choice to leave when he could have stayed.
Iranians have been crossing into Turkey for years in order to escape persecution from their government. Any Iranian with a passport can cross into Turkey without a visa. Turkish and international activists and NGOs make up the modern-day "underground railroad" out of Iran. Niakan stayed in Turkey for two years in limbo while his claim for refugee status in Canada was evaluated.
On a cool November morning in Kayseri, Turkey, Niakan received a call that would change his life. He picked up his ringing cellphone with a trembling hand.
"Hi, Pedram," announced an official from the Canadian embassy. Their dull voice masked the significance of the moment. "Do you want to go to Halifax?"
After 18 years of self-examination—four in silence and two in limbo—there wasn't any doubt left in him.
"Yes, I do."
———
The bus travels along the Bedford Basin as it winds through icy roads. The bright sun masks the brisk cold January winds. Niakan's a long way from his balmy childhood home. His days are composed of school and work—where he slaves away in a kitchen, his stainless steel prison. Some would question why he would trade the hearty comforts of home for the frigid struggles of the unknown.
Sitting beside a stranger—they're all strangers on the bus—Niakan doesn't look outside at his new country. His eyes focus on the illuminated screen of his phone, cradled between his palms raw with cold.
Every morning at eight, Niakan hops on the 80 bus to go to school and attend a Language Instruction for Newcomers to Canada class. This morning is no different. He's going over English words on the bus he needed to learn that week. The lesson is on health services.
"Ophthalmologist, psychologist, appetite, insomnia."
When the bus stops in front of the square brick building he calls school, 20 people get off. Young Muslim women wearing the hijab snicker in low voices as they walk close to each other. Two Russian men are in a heated conversation ahead of him. A Japanese man walks alongside him with a school bag on his shoulders and his lunch safely folded in his arms. Everyone speaks over one another, a melodious blend of accents.
They're students who have received bachelors and masters degrees in their native countries. Students starting all over again with book clubs and homework. Everyone is going back to school.
Canada is home to 6.8 million foreign-born residents. Last year, 2,661 immigrants moved to Nova Scotia.
A dozen students from countries such as Kosovo and Japan sit at desks arranged in a semi-circle at the centre of his classroom. A pile of tattered dictionaries is sitting in a corner and the walls are adorned with maps of Nova Scotia and the world. A large Canadian flag greets students as they walk through the door. "Welcome" is boldly written with white chalk on the board. When the arrow on the red clock at the front of the classroom reaches 8:30am, the teacher strolls in.
After the grammar lesson, it is time for book club. Niakan is next. His book, Winter in the Blood by Native American writer James Welch, deals with questions of identity and a cataclysmic childhood. "I like to know how people handle their lives in tragedy," Niakan begins. His soft voice doesn't dampen his confidence—he speaks with authority.
When he first arrived, the only English he had mastered were the language lessons his mother forced him to attend when he was 12. He never paid much attention to foreign words scribbled on the blackboard. When would he ever need to speak English? "Everyone has one problem. If you find it, you can control it," he says. "You have two choices, you can forget it, or find it and control it. I want to find out how to overcome it."
———
It is Nowruz—the Iranian New Year—six years ago and Niakan, all of 19, is hiding in a car with his then-boyfriend. His head rests in his young lover's lap while he absentmindedly combs his fingers through his boyfriend's sun-kissed hair.
They would never dare show affection towards one another in public, where members of the Revolutionary Guards patrol the streets to enforce Islamic morality. In public, everything is secret. Any public displays of affection are forbidden. So are Twitter, ponytails and women watching men playing sports.
But tonight, it's different. Thousands of Iranians have gathered in the streets of Shiraz to take part in national celebrations. The atmosphere is thick with the celebratory cheers of the crowd and multi-coloured fireworks illuminate the dark skies.
Suddenly, the inside of their car is lit up by headlights—everything looks more incriminating in the light of day. Niakan sits up and both of them look out. It's a police car. They have been found out. The officer orders Niakan and his boyfriend out of their car.
Cautiously they step out. The police officer leans in to kiss Niakan on the cheek—a greeting custom in Iran—while trying to discern the presence of alcohol on his breath. When none is found, he waves them off. "Don't stand there, go!" he bellows.
Interacting with police is Russian roulette: a lethal game of chance. Being gay in Iran is bad for your health. With shaking breath, they thank the police officer before clambering inside the refuge of the car. Before he drives away, the officer rolls down his window and says, "Just like before, lie down!"
This wasn't Niakan's first interaction with the police. Shortly after he was expelled from university for failing an exam, Niakan received his future in the form of a draft letter: an invitation to join the military.
Once they turn 18, all Iranian males are required to report for service. Gay men can be exempt from serving in the military if a psychological diagnosis confirms homosexuality. Outed by the military, many gays flee Iran after being exempted.
Niakan was presented with an agonizing choice: He could hide his sexual orientation and be drafted in the military, or confess his homosexuality and apply for deferment. The green identity card was Iran's rendition of the scarlet letter—an emblem of guilt to which he voluntarily submitted.
"I felt guilty because I couldn't change my future, but I couldn't be like this," Niakan explains. "I had no goals. The picture of my future was foggy. I needed to rescue myself because it was like I had a phobia of myself." He chose his own fate.
The diagnosis is summarized on a note from the doctor which attributes his homosexuality—the only English word on this Farsi document—to depression. He was handed a new identity card for his troubles. Printed on the front was "33-A," the military regulation that allows gays and transgendered Iranians to be discharged from service. He was now Pedram Niakan, a gay man.
"When I got the identity card, it was like I took one step to be who I am," says Niakan. "And I knew that with this card, I don't have any future in Iran."
———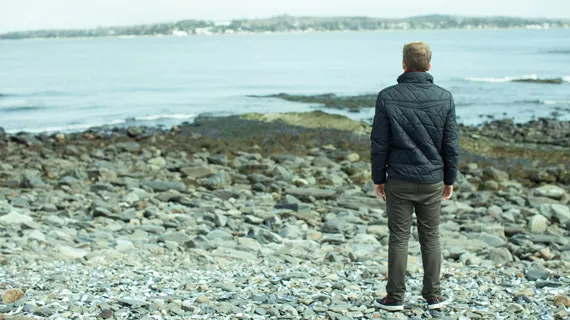 Niakan doesn't date much nowadays. He left behind his boyfriend, who is waiting for refugee status in the United States, in Turkey. He shares a small apartment with another gay Iranian refugee. They live on the second floor of a small downtown apartment building in the midst of an organized mess. The narrow entrance is littered with winter boots. Grimy dishes are neatly stacked on the kitchen counter. The living room is bright and spacious, bolstered by half a dozen large plants resting on a table.
On a snowy Tuesday afternoon, Niakan opens his home to the media. A journalist from CBC is interviewing him about the Rainbow Refugee Association, the NGO that sponsored his first year in Halifax. Five of the nine gay refugees living in Halifax were sponsored by the program.
The presence of strangers in his home doesn't dampen his warmth or good humour. He expresses gratitude for the monetary assistance and the moral support the association provided when he first arrived in Canada.
Back in Turkey, Niakan spent his time filming amateur documentaries about the life of refugees. He recently applied for a sponsorship to prepare a short film about newcomers in Canada—the subject becoming the filmmaker. Niakan wants to use his talents to help fellow LGBTQI individuals in Iran.
"I want to write their story, I want to make movies about them," he says. "I want everybody in Iran to talk about them. I don't like people in Iran that close their eyes on reality."
The smile almost permanently etched on his face stretches wider at the sight of his sister on Skype. They speak almost daily, despite the seven hours separating them. Sara is older but behaves as though she's stuck in adolescence—a free spirit. People often mistake her for being a decade younger than her 31 years. She shares her brother's green eyes and blonde hair—the top always shows beneath her headscarf, which she wears stylishly loose.
He speaks regularly to his parents on the phone, but their relationship is strained under the weight of what isn't brought up—Niakan's sexuality. They freely discuss Niakan's schoolwork and his job. Not a word is spoken about the reason for his escape.
The average Canadian might find it hard to believe how someone could trade their country, family, friends and culture for the brisk cold of Canadian winters, few employment opportunities and higher cost of living. But Niakan has no regrets.
He has no regrets even though he splits a 50-hour week between work and school. Even though he wakes up at seven every morning to catch the bus, regardless of the weather, to go to class. Even though he's learning a new language. Even though he's separated from his family by the width of an ocean.
"You can live" in Iran, he says, "but you can't be who you are. You live in fear."
———
In Halifax, things are different.
"You can be who you are here. I learned there is nothing to be afraid of," says Niakan. "Canada made my future."
Outside, a snowfall continues its peaceful descent.


Rachel Richard is a journalism student at the University of King's College. She is currently interning at Journalists for Human Rights.