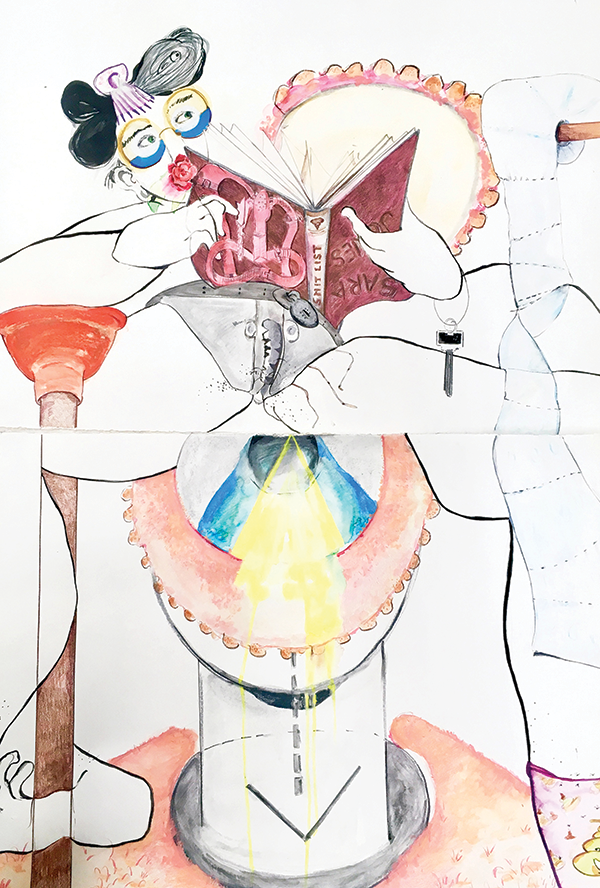 Iam a white-passing Japanese Canadian queer cis-woman born and raised in the north end. However, I haven't gotten to live there as a queer adult yet—I left Halifax almost immediately after coming out at 20, during my first year of my BFA at NSCAD. I often feel this leaving as a kind of loss. Yet the skills I learned from growing up in a close-knit community are the ones I often pay tribute to.
Finding a queer POC community of artist weirdos like myself to make my home has been an intentional search. One of my cherished early queer experiences was being a part of The Gladstone's That's So Gay exhibition in Toronto in 2013. There, I showed my work among other gay artists for the first time, and it made me consider what communities I wanted my artwork to speak to.
Recently, my latest projects in New York have shown bodies of work that use humour to discuss sexual health, sex and consent. Part of this work is researching chastity belts and their role in medieval history, North American history and their appearance within BDSM culture. In "Chastity Belt," Sara Jones, my alter ego, is wearing a chastity belt come alive, teeth and little legs spilling out from the belted structure, with rolling eyes planted firm in the centre. The release key is around her wrist.
I feel so fortunate to be finding an audience and peers through my exhibitions and through my participation with queer art. However, this has definitely not always been the case.
In art institutions and commercial spaces, we still see mainly white (and often cis male) artists—work that is considered easy to sell. I am becoming more comfortable and excited to find my place as a more non-commercial artist and learning through the experiences that will come with this place in the art world.
When I was invited to curate a show in an alternative art space in Brooklyn, my goal was to invite queer artists whose work discussed their experiences in the medical industry. I sent the proposal with artist links and when I went to visit the space, he immediately let me know that hosting a show of queer art like ours was too offensive.
In response, myself and some of my fellow "offensive" artists curated a show we titled Let Us Be Gay.
Creating confrontational and vulnerable artwork that describes my queer and mixed-race identities and experiences that are confrontational and vulnerable are priorities for me, because I've experienced how seeing someone else be brave allows room for the next person to do the same. It's strengthened my commitment to support and give space to queer artists when I can. The experience of being excluded because my work was deemed "offensive" clarified to me the importance of considering how to use my art as a tool to continue conversations around sex, consent and sexual health. a

Born in Nova Scotia, Sarah Mihara Creagen is a white-passing mixed-race queer artist based between Brooklyn and Toronto.
———

Voice of the City is a platform for any and all Halifax individuals to share their diverse opinions and writings. The Coast does not necessarily endorse the views of those published. Our editors reserve the right to alter submissions for clarity, length, content and style. Want to appear in this section? Submissions can be sent to voice@thecoast.ca.