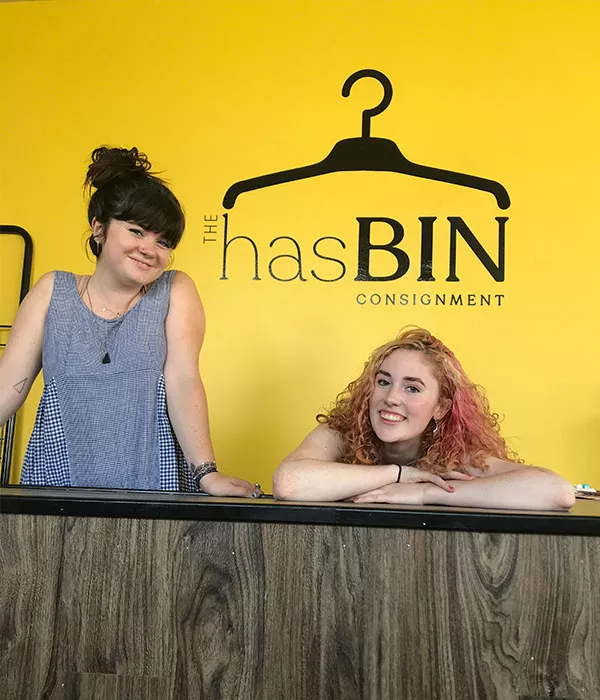 For carefully curated style and inclusive, sustainable shopping, look no further than The Has Bin (269 Windmill Road), a new consignment store in Dartmouth. Business owners and young entrepreneurs Bee Morrison and Gwyn Maxwell opened the space last week and are astounded at their success so far.
"It feels really really good to be your own boss, I think, and to have people come in and be excited about it. it's a really wild feeling," says Morrison.
Both she and Maxwell are in their early 20s. Maxwell, hailing from Vancouver, managed a thrift store in the past, so she brings the technical skills to the business, while Morrison brings the passion and the people skills.
"It was kind of like a dream we didn't know we had," says Morrison.
Maxwell agrees. "Everything just kind of fell into place somehow."
The two say The Has Bin's affordability and inclusivity sets them apart from other consignment shops. Their clothing is organized by colour instead of by gender.
"There's not a lot of men's consignment, or masculine clothes, and we're also a gender-queer inclusive space," says Morrison. "For example, it's really hard to find plus size masculine clothes, and so we're trying out very best to procure as much of that as possible. Just trying to be as inclusive as possible, that's what makes us different. We're not just a brand-name women's consignment store."
Morrison, a Dalhousie sustainability student, enjoys how environmentally friendly thrift shopping can be, and hopes to expand the store in the future to include Dartmouth-made art and craft as well as refill stations for dish soap and detergent.
"There's a shop opening like that in Halifax,"says Morrison, shouting out the coming soon Tare Shop, "but there isn't a space like that in Dartmouth yet and I think it would be very beneficial to the community around us."