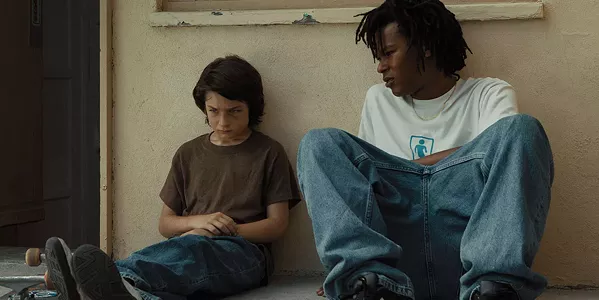 Jonah Hill makes his directorial debut with the coming-of-age story
Mid90s
, which received a rapturous standing ovation when it premiered at the Toronto International Film Festival last month. But let us push a pin into that festival bubble: Sunny Suljic leads a cast of mostly unknowns as Stevie, the son of a single mom (Katherine Waterston in the only female role of substance, which is not saying much) with a violent, sullen older brother (Lucas Hedges doing a Slim Shady impression). He finds in skateboarding not just something to occupy his time and brain, but a group of friends too, including Fuckshit (Olan Prenatt), Ray (Na-kel Smith) and Fourth Grade (Ryder McLaughlin), who films everything on his camcorder. (This was peak skate video time.) Stevie's connection is Ruben (Gio Galicia), who gives him advice about how to be cool with the crew ("thanking people is gay," cool story Ruben) and is understandably miffed when Stevie becomes the cool new kid.
All of this is a fine bromance of little substance or depth—there's something to be explored about choosing your own family, but having one character list the rest of the characters' problems is not the same anyone having nuance—and it looks era-appropriate, with lots of skate tricks. But Hill is being breathlessly hailed as bona fide auteur, the same way Greta Gerwig was this time last year for
Lady Bird
(the films share the same hip distributor, A24), and that is outrageous. The movie is clearly close to the actor's heart, and he has put together a great young cast, but "teen boy does teen boy things" is not a revolution. It's barely a YouTube video.