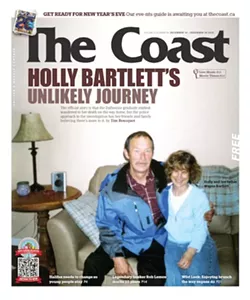 This Friday night, March 28, CBC television's Fifth Estate program will examine the death of Holly Bartlett, the 31-year-old Halifax woman found dying beneath the MacKay bridge in 2010. Friday is also the fourth anniversary of Bartlett's death.
A Coast investigation published last year ("Holly Bartlett's unlikely journey," December 12) detailed the murky circumstances around Bartlett's death, and raised troubling questions about the police investigation into it. As a result, premier Stephen McNeil asked Justice minister Lena Metlege Diab to review the case, and last month the Halifax Regional Police Force announced that it had asked the Quebec City police department to conduct an "operational review" of the Halifax PD investigation. That review should be completed late next month.
Fifth Estate host Mark Kelley says the show is airing "a couple of nuggets" that advance the story, including a sit-down interview with Paul Fraser, the cab driver who drove Bartlett home that fateful night in 2010, and who gave investigators conflicting accounts of his actions. Fraser had declined to talk to The Coast. The account he gave the Fifth Estate is "full of contradictions," promises Kelley. "His story has changed once again."
"This is one of the most intriguing stories I've ever done, because the facts do not add up," says Kelley. The Fifth Estate airs at 9pm Friday, and will be archived at cbc.ca/fifth.