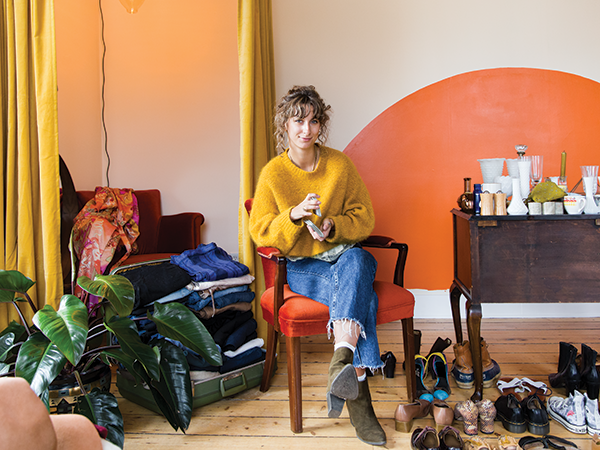 Fiends
5775 Charles Street, second floor
Opens Thursday, October 31
---
F orest Eden Greenwell's new shop, Fiends, is a one-stop shop for folks interested in leading an intentional lifestyle. Linking self care to our own unique rituals, whatever those might be, Greenwell wants to elevate the little moments we give ourselves. A poet and a tarot reader, she co-hosts new moon gatherings with The Circle Womxns Society, where attendees can get their cards read, journal and discuss astrology and related topics. With Fiends—which opens on Halloween—Greenwell can put all these pursuits (and more) under one roof and create a community around it.
"We want to create a real space in the community for rituals and how we perceive them," says Greenwell. That includes regular workshops and meetings, thrifted clothing and jewellery, house plants curated by House Full of Plants, essential oils (including a custom blend just for the shop) and "a free library and available resources on spirituality and occultism and good books that teach you about life, as well as yoni eggs, sex toys, crystal wands—pleasure relates to ritual as well."
Greenwell explains small intentional pieces—like brass lighter holders—can help turn something as simple as lighting a candle while you unwind before bed into a special little moment. Even if you don't believe in astrology, tarot, crystals or the like, Fiends will be a place to support local makers and buy special thrifted items.
She also plans to offer $45-a month tarot memberships that include one monthly workshop and reading, plus 10 percent off in the shop. Greenwell hopes regular memberships will help clients "keep [their] spiritual selves accountable." Fiends will also offer tarot readings on a PWYC basis on Wednesdays.
Fiends aims to be a place for everyone to find a little something special to make the everyday a little more magical. "Small rituals enhance every day life, whether that's wearing power colours, carrying rocks or diffusing essential oils," says Greenwell. "We all make up our own belief systems in our lives and we don't always relate to the same things."