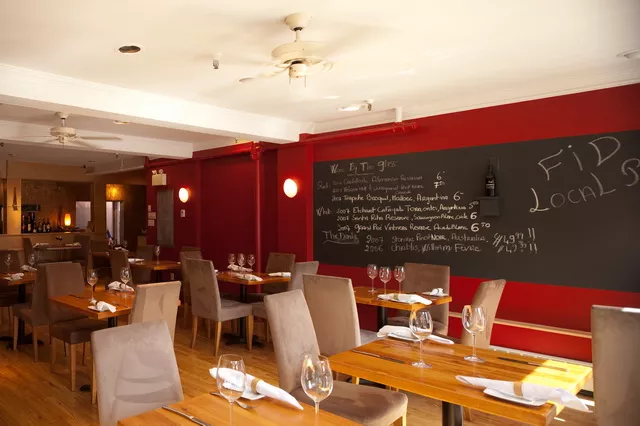 Besides being masters of serving high quality meals,
Dennis Johnston
and
Monica Bauché
, proprietors of
Fid Resto
(1569 Dresden Row, 422-9162), have proven themselves keenly aware of their place in the Hali restaurant market, and have responded to changing times in interesting ways.
With the onset of the recession, Fid re-greared its menu, keeping the quality but lowering prices. That commitment to low prices pops up each winter with a special "small plates" menu, a week or so of menu items priced from $7 to $10. Bauché says they're planning to repeat that offering this year, but haven't yet firmed up plans.
Still, it's not just about affordability—there's room for simple fun. This week, coinciding with the Atlantic Film Festival, there's a special "Hunger Games II" menu, offering such dishes as "There will be blood...pudding," "The Codfather" and "The lamb shank redemption."
But besides being adaptive in menu offerings, Johnston and Bauché have extended their core business into interesting and creative side lines.
Last spring, the restaurant started serving "back door Pad Thai"—anytime the kitchen's open, which is from 11:30am through the evening hours, you can simply knock on the Queen Street kitchen door and ask for an order of Pad Thai to go, and the cooks will whip it up for a mere 10 bucks. Bauché says the back door Pad Thai has been wonderfully successful but, thinking of the coming change of season, wonders if people will continue to come when it means waiting outside in the cold. Then, she answers her own question: "A lot of people call ahead to order, so they don't have to wait. Or, if there's room, they can sit at the bar." Problem solved.
It's also time to start thinking of signing up for Johnston's cooking classes, either Thai or French cuisine, generally taught on Mondays when the restaurant is closed, but possibly other days, depending on how fall hours get established. The classes are hands-on, and are not simply a "watch Dennis cook" affair: students handle the food and kitchen equipment themselves, as Johnston walks them through an appetizer, a main course and a dessert, then the group sits down and eats their creations. Bauché says that wannabe students can wait til the classes are officially offered, but it makes sense for those interested to start forming their own groups—at least six people, but only 10 can fit in the Fid kitchen—now, and calling the restaurant to figure out mutually a agreeable schedule. I can't think of a better excuse for a weekly friend outing.
And—how sad is this?—it's already time to begin making plans for the workplace holiday events. Bauché suggests a night at Fid. A typical company outing might be consist of 30 employees, split into three groups of 10, each rotating through a cooking class in the kitchen, a lesson in drink-making behind the bar and a wine-tasting on the other side of the bar.
The defining word here is "flexible." It's striking how much Johnston and Bauché are willing to work with customers to make everyone happy. On their 12th year of business, with that attitude, they'll no doubt continue their success.