June 15-22 Editor's Pick The Nova Scotia Multicultural Festival
This summer marks 30 years of the Nova Scotia Multicultural Festival. It's an immersive week of cultural education with artisans, performances, a parade, AMAZING FOOD (there's a full line-up of international hot dogs), workshops and a health and wellness series across Halifax and Dartmouth, throwing a spotlight on the many heritages that enliven our province. Near Pier 21, 1055 Marginal Road, $6/$7, multifest.ca
June 20-22 Out of town Full Circle Festival
Described as a "newfangled string band hootenanny," Full Circle Festival is an outdoor camping and music experience. Break out the overalls and moonshine for Willie Stratton and Jennah Barry, among others. And if you start finding your cousin attractive, it's all part of the Adirondack feel. Ever see The Waltons? Newport Landing, $25-$50 (or $75 for a weekend pass), fullcirclefestival.ca
June 20-22 Out of town Privateer Days
We Nova Scotians sure love our period re-enactments that showcase our 300-year history as small colonial outposts, the most prosperous of which was Liverpool, full of historical relics. Townsfolk and volunteers from far and wide eat wood-cooked beans to toot and camp under the moon like it's 1849.
various locations in Liverpool, privateerdays.ca
June 20-21 Aboriginal Day Live & Celebration
On the summer solstice, celebrate the First Nations, Inuit and Metis people of Canada along the Halifax waterfront. From wigwam workshops to drum circles, the event's spirit will help connect you to Canada's oldest cultures, and the moon will illuminate a concert by A Tribe Called Red, Ashley MacIsaac, Radio Radio and more. Halifax waterfront, aboriginaldaylive.ca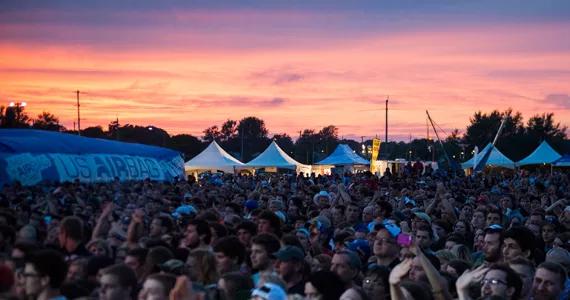 June 28-29, July 12 Out of town The Big Red Music Fest
I kind of like songs by The Killers---"I'm Mr. Nice Guy"---that's a jam! No, wait, it's "Mr. Brightside"? Well, whatever, the second annual Big Red Music Fest on PEI brings The Killers to the island, along with Seth Cohen's favourite alt-rockers Death Cab for Cutie, new wave pop girl LIGHTS and fellow Canadians Bahamas, Kardinal Offishall, Hey Rosetta! and more. I would love to see Anne of Green Gables rock out. Charlottetown Event Grounds, Charlottetown, $39-$75 or $120 (festival pass), charlottetownsummerfest.com
June 27-29 Out of town Folly Fest
A mix of reggae, alt-rock, electronica, folk and jazz, Feels Good Folly Fest is a sample-platter of the various genres and styles you can encounter here on the east coast---like Al Tuck, Becky Siamon, Coyote and The Caravan. Sponsored in part by Picaroons beer, live painting and art are also central to the weekend, as well as wondering when New Brunswick got so cool. Gagetown, NB, $119.50, 2014.follyfest.com
July 1-8 Royal Nova Scotia International Tattoo Festival
Nova Scotia's long military and music history is celebrated by the Royal Nova Scotia International Tattoo at the Metro Centre and all over Halifax. Performances of pipes and drums, military and civilian bands, Highland dancers, re-enactors and so much more; a great time to get your parents to visit from Ontario. Halifax Metro Centre, 1800 Argyle Street, $36-$80, nstattoo.ca
July 4-6 Out of town The Stan Rogers Folk Festival
In honour of the folk-singing working-class hero Stan Rogers, this year's Canso festival features Ani DiFranco, The Lee Boys, Lennie Gallant, Guy Davis, daytime workshops, songwriters' circles and fiddle reels for days, plus a killer view.
Canso, $50-$120 (weekend pass), stanfest.com
July 4-12 Editor's pick Halifax Jazz Festival
In the last decade, the Halifax Jazz Festival has become one of the most exciting and well-attended festivals in town, continually surprising us with multi-genre artists from our dreams. This year, amazing talents like St. Vincent, Yasinn Bey (Mos Def), Robert Glasper, Jerry Granelli and many amazing others have me jazzed to the max. Festival Tent, Salter Street and Lower Water Street, and various locations, individual tickets and festival passes ($125) available, halifaxjazzfestival.ca
July 6-August 10 Free & Out of town Granville Green Sunday Concerts
For the few best weeks of summer, you can catch weekly concerts on Granville Street in the Hawk, kicking off the series with Joel Plaskett and Dave Sampson and ending it with the Tom Fun Orchestra. And finishing off every incredible night at the China King Buffett. Granville Street, Port Hawkesbury, 7pm, free
July 10-13 Free The Lebanese Festival
I got a fever and the only prescription is more hummus. Yes, that's right: the annual Lebanese Festival at the Olympic Hall is a mid-east cure-all. From dancing and food to music and Orthodox culture, the Fest celebrates the history of Lebanese-Canadians who have been immigrating to Halifax since the 1880s. Olympic Community Hall, 2304 Hunter Street, free, lebanesefestival.ca
July 11-13 Out of town Evolve Festival
On rolling fields near Antigonish, Evolve is an explosion of electronic, folk and rap music; a curious tornado of neon furries, henna tattoos, excited masses and waking up in someone else's tent or vomit. Peaches, Grandmaster Flash, Fred Penner and a ton of Halifax locals promise you'll turn down for what. Antigonish, $178.50 (festival pass), evolvefestival.com
July 16-20 Out of town Acoustic Maritime Music Festival
The Kempt Shore is a secret garden of lush landscapes and dramatic coastlines, so use the 10th annual Acoustic Music Fest at Peterson's Campground to enjoy acoustic sets by Joel Plaskett, David Myles, Charlie A'Court and more in a pristine agricultural heaven tucked between unassuming tidal bores. Peterson's Campground, Kempt Shore, $65.22, kemptshorefestivals.com
July 17-27 Editor's pick Halifax Pride Festival
The most colourful festival, Halifax Pride continues to celebrate the LGBTQIA community and its allies by rallying everyone together in the name of love. With some outrageous events (drag queen baseball is my favourite) and the most fun parade, Halifax Pride is a festival that shows the strength of the human spirit. various locations, halifaxpride.com
July 25-27 Editor's pick Out of town Harmony Bazaar Festival of Women in Song
OK, Jully Black is one of Canada's most successful R&B singers, so that's reason enough to get out there. With a full lineup of local and national female artists, the Harmony Bazaar will probably sync up everyone's periods. I joke, I joke. This unique event
showcases the skill and strength of female songwriters. Seacaps Memorial Park, 57 Hall Street, Lockeport, $48-$93 (festival pass), harmonybazaar.com
July 25-27 Out of town Future Forest Electronic Music Festival
This is the future. With headliners from the UK, Australia and Germany, and with Montreal and eastern DJs and electronic artists, the Future Fest boasts stages called The Forest (mushroom-themed) and The Prism---sand-covered, Lycra-inspired multi-level dance-floors. In the woods! Guys, it sounds amazing.
Wark's Point Road, Keswick Ridge, NB, $105, futurefest.ca
July 31-August 4 Bell Aliant Natal Day Festival
Five family-filled civic-event days kick off on July 31 with a Bluesfest and end with a morning parade and night-time fireworks from the Macdonald Bridge. This year, my gift to Halifax for its 199th birthday will be my continued habitation here despite a terrible economic climate. Here's to many more, you jerk! various locations, natalday.org
July 30-August 4 Halifax Buskers Festival
Buskers deliver acts from all over the world doing amazing feats, tricks and dances, which are worth the waterfront walk. Don't forget to throw a little something in the hat, these guys work hard and survive on tips. Halifax waterfront,
August 1-3 Editor's pick Sappyfest IX
Sappyfest is the best fest in Canada, made official when I saw post-Grammy Arcade Fire playing b-ball before a secret show for a few hundred people. Best episode ever. This year, Shotgun & Jaybird and The Constantines reunite; the beauty list of a lineup makes Sappy the best weekend of the summer. Sackville, NB, $89.25, sappyfest.com
August 1-3 The New Glasgow Riverfront Jubilee
When I was 17, I snuck into the Jubilee beer tent to meet The Jimmy Swift Band. It was awesome but illegal and I don't recommend it. And anyway, this year, Steven Page (The Barenaked Ladies), Danko Jones, Sam Roberts Band and more dudes will rock the tiny river town in a manner that's totally legit. Glasgow Square Theatre, 155 Glasgow Street, New Glasgow, $25 (day pass) $70 (festival pass), newglasgowjubliee.ca
August 7-10 Lunenburg Folk Harbour Festival
There's hardly any place more picturesque than my almost-hometown of Lunenburg. Just an hour-and-a-half down Highway 103 and you'll find some of Nova Scotia's most prominent folk musicians and decorated poets feasting on lobster sandwiches and kissing the Bluenose (just kidding, no one does that). Here's a chance to see acts like Amelia Curran, Kim Harris, Reeny Smith and Bruce Guthro. various locations, Lunenburg, $134 (festival pass), folkharbour.com
August 8-10 Out of town Dutch Mason Blues Festival
Dutch Mason was one of Halifax's most successful blues musicians, inducted into the Order of Canada in 2005. Now in its 10th year, the festival in his honour has become Truro's summer highlight, with a full weekend of musicians, motorcycles, body art and barbecue. Truro Raceway, 60 Ryland Avenue, $125, dutchmason.com August 21-23 Out of town PEI Jazz and Blues Festival
PEI is known for its potatoes, its gables and its red sands, but the PEI Jazz and Blues Festival has become another well-known feature of the gentle island. This year, Ron Sexsmith, the Joel Plaskett Emergency, Mo Kenny, Ben Caplan and John Campbelljohn will rock and roll Char-Town real good.Charlottetown, various locations, $20-$75, jazzandblues.ca
August 23 Out of town Summer Fear 4 Horror Festival
Halloween is one of the most terrifying horror franchises in the history of film. This year at Summer Fear, Don Shanks, the Michael Myers stuntman from Halloween 5 (and many other films), plus 1980s horror queen Lenore Zann, are honoured guests for screenings at the Grain Elevator. This is the coolest one! Tatamagouche Grain Elevator, 44 Creamery Road, tatagrainelevator.com
August 24 Clam Harbour Beach Sandcastle Competition
On an August day, nothing beats eating warm sandwiches while admiring dozens of intricate entries in the annual, 35-year-old international sand sculpture comp at Clam Harbour. With a public shuttle to and fro, there's no reason to miss this opportunity to be super- cranky after eight hours in the sun with sand in your suit. Also, art. Clam Harbour Beach, 158 Beach Road, 9am, $10 (free for kids), facebook.com/clamharboursandcastle
August 30-31 Springer Spaniel Nationals
Put a little spring in your step at the Springer Spaniel Nationals at Exhibition Bark. I mean, Park. With the Halifax Kennel Club, spaniels from Canada and the USA will be looking cute all weekend while they compete in obedience and skill challenges. Note: Cats are not welcome at this event, or any event. Exhibition Park, 200 Prospect Road, 9am-4pm